According to MarketingSherpa's Analytics Benchmark Report, only 37% of respondents said they routinely used analytics for their marketing planning. It's no wonder the highest priority for 66% is to do a better job of acting on data to improve marketing performance.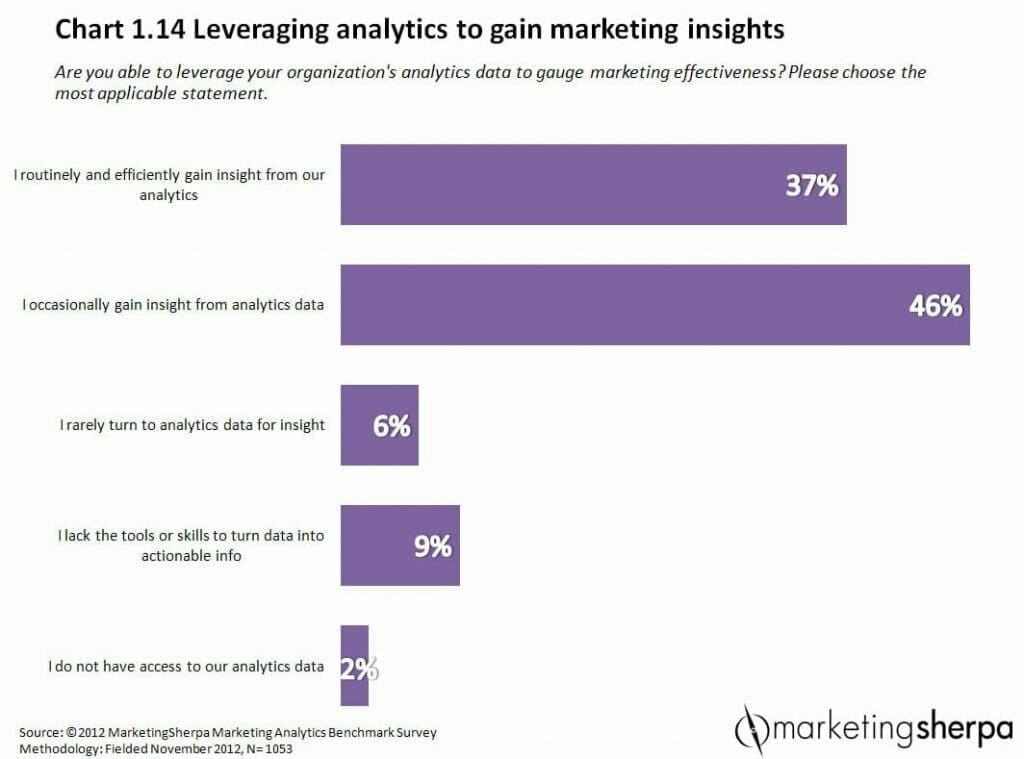 They would be wise to follow the lead of Aimee Miller, Vice President of Marketing, AppFolio, a property management software company. She is able to:
Track every penny of her marketing investment and its business impact
Help her sales team identify the hottest prospects faster in the company's database
Help her marketing team do more in less time
"We are able to do 30% more marketing activities. When you increase your workload by 30%, that means not hiring more people, so the efficiency is a huge gain for us," she explained.
She achieved this by maximizing all of the functionalities of her marketing automation program and brought in a marketing automation consultant to help. Aimee had been an early adopter of marketing automation, and she witnessed its value in her previous position. However, she knew the system could do more than what she was using it for, especially with recent product upgrades.
The consultant helped by using marketing automation to enhance AppFolio's lead-lifecycle performance reporting. AppFolio was collecting many names for its database, but the consultant wanted to make the following distinctions crystal clear:
Which were qualified leads
Which ones were accepted by Sales
Which ones resulted in revenue
The steps AppFolio took to achieve its lead-management goals
1. The team collected 90 days of lead data to develop a baseline to understand where there was the most room for improvement. This included:
The number of new leads created during that period
The number that was qualified and added to the pipeline
The number that closed
2. Marketing and Sales clarified their lead definition and what it looked like at each stage of the marketing/sales funnel. (Learn more about that in this article, "Why 75% of Marketers Are Experiencing Lead Generation Pain and How to Stop It Before It's Too Late.") This wasn't too much of an issue for AppFolio, because its definition of a qualified lead was simply anyone who asked for a demo or trial of the software.
"Obviously, we get fewer leads, but they are higher quality because people are raising their hands for the solution," Aimee explained. "But we also wanted to give visibility to those who weren't raising their hands, but showing signs of interest."
AppFolio achieved this by developing a lead scoring system that attached points to prospect behavior, such as:
Clicking to the "Features and Benefits" page
Registering for an educational meet-up (AppFolio hosts 17 every quarter)
Downloading content
Reviewing the pricing page
Once prospects reach a certain point threshold, the system alerts sales professionals to move forward.
3. They make it simple for Sales to participate in the process. All they need to do is update one or two fields in the automation system to report lead progress.
Aimee said whether a lead is rejected or advanced in the automation system should give marketers plenty of information on its quality.
"Sales shouldn't have to check all these different boxes to rate and respond to a lead. Whether they accepted a lead or not should tell us whether the lead is moving forward," she said. "Furthermore, Sales should be focused on closing business and generating revenues, not updating forms."
Aimee said she is in good company when it comes to the challenges of understanding the marketing funnel, but points out data alone isn't the answer.
"A lot of companies are investing in marketing automation to collect data, but if you're not making sure you can look at the data and understand how what you're seeing and how your marketing is performing in a concrete way, then it's not a good use of time or energy," she said.\
Sources:
LeadMD – AppFolio's marketing automation consultant
Related Resources:
Lead Scoring: How to pick the right ingredients for high ROI
Sales and Marketing: The technology behind CRM
Universal Lead Definition: Why 61% of B2B marketers are wasting resources and how they can stop
B2B Marketing: 7 tactics for implementing marketing automation from a fellow brand-side marketer
How to do lead management that improves conversion
Thoughts on how the human touch impacts marketing performance