If you want a snapshot of the user experience on your websites from the perspective of your prospects, ask them.
This is exactly what James Coulter, Marketing Optimization Specialist, Sophos, did to understand better how prospects engaged the organization's website.
James shared some of Sophos' user feedback that he really took to heart during his Optimization Summit 2013.
"I really wanted our website to be something that would help them in their purchasing decisions," James explained.
I would wager many B2B marketers are reading this who receive similar kinds of feedback from prospects a lot more often than they would like to.
This feedback, while harsh, is some of the most valuable insights you'll ever receive. It's also an honest wake-up call for making the changes needed to serve your prospects better.
In today's B2B Lead Roundtable Blog post, I want to share the three steps James used to implement a testing and optimization strategy for Sophos' Web experience to hopefully help your team tackle the four toughest words in optimization:
"Where do we begin?"
Step #1. Identify your goals
James explained that although there were plenty of areas where he could have focused on increasing, such as white paper leads, free trial leads, and new quote leads, narrowing the list down to the greatest opportunity would be key in developing optimization goals.
"There were hundreds of things we could have focused on," James said, "and the first thing I tried to understand is: Where should we focus?"
Some of the information he gathered to help him understand where to focus was:
Feedback from Sales
A review of all lead sources (average cost per lead and lead/opportunity percentage)
This also gave James the insight he needed to set a clear goal of discovering "where can we have the greatest impact on revenue."
Step #2. Put together a cross-functional team
Next, James put together a cross-functional team from Sales, Marketing, and Product Management to help drive visibility, awareness, and buy-in on the new initiative.
Putting together a diverse team is also a fantastic way to look for new ideas outside of your own and create a true sense of ownership in the success of the new approach.
Step #3. Craft your initial hypothesis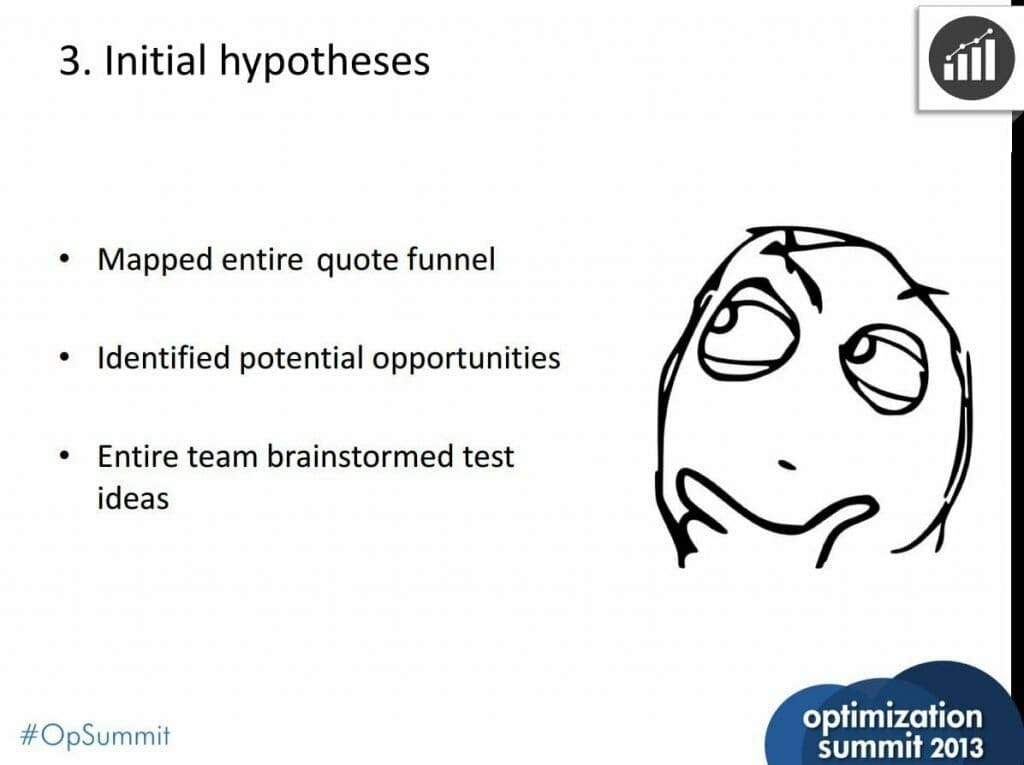 Finally, James and his team mapped their entire quote funnel to really drill down and understand where in the process, most prospects were dropping out.
This led them also to identify where the greatest testing opportunities existed.
Crafting your hypothesis on customer behavior is also where you truly start to bridge the gap between intuition and data-driven insight and then turn that insight into goal-oriented action.
How would 6,000% more leads than you have now impacted your organization?
Ultimately, the Sophos team developed a well-tested and optimized lead generation program that increased leads by 6,012% and counting, according to James.
The team's success also points to a bigger notion – the process of testing and optimization is a marathon.
It's a long-term strategy that takes time, testing, analysis, and even more testing to help you fully understand what works.
It's a strategy where success is not the destination, but instead, the only option left.
To learn more about the challenges James faced in transforming Sophos' lead generation program, you can watch the on-demand replay of "How a Long-term Optimization Strategy Led to a 6,031% Increase in Leads."
You may also like
Marketing 101: How to get started in lead generation [More from the blogs]
Email Marketing: Do you test your legacy marketing? [More from the blogs]
Email Marketing: 2 campaigns that used innovative creative to generate leads
B2B Lead Generation: Top tactics for a crisis-proof strategy