After a quick stroll through the Aria Resort & Casino's brilliant collage of metal, glass, and escalators, my journey to reach MarketingSherpa Email Summit 2014 is complete.
As luck would have it, I've arrived just in time for the Email Messaging (overview of the online version of the course at that link) Workshop on "Writing Effective Email Copy," led by Dr. Flint McGlaughlin, Managing Director, MECLABS.
During the session, Flint offered an interesting perspective on the relationship between email copy and the value proposition you deliver to prospects in your email marketing.
According to Flint, optimizing your email copy is a big key to tipping the value and cost force exchange fulcrum with your prospects.
"Copywriting is fraught with claims, and the job of a marketer is not to craft claims, but craft a conclusion," Flint said.
In sum, good copywriting is about recognizing perceived costs in a prospect's mind and delivering enough value to overcome those costs.
So in today's post, I wanted to share three copywriting tactics for increasing perceived value that you can use to aid your email marketing efforts.
Use personalization to "arrest attention" from prospects.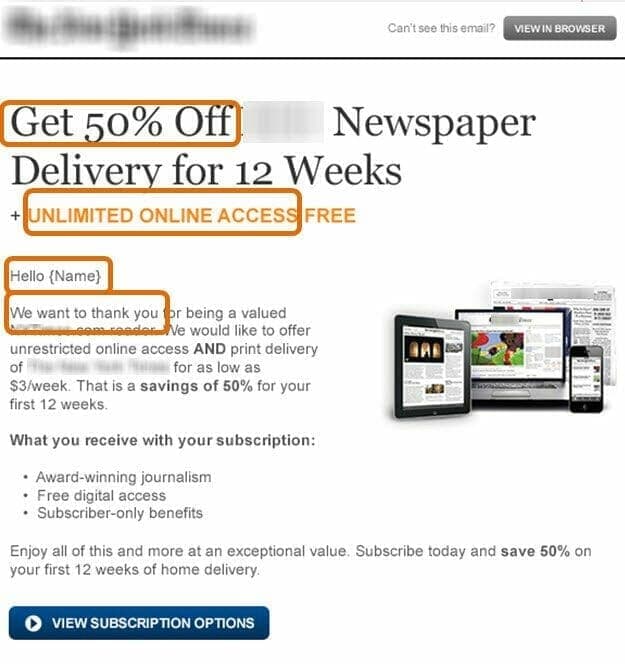 Here's a screenshot of the letter-style email Flint used as an example to begin walking through how email copy can be optimized to communicate value to your prospects.
One thing to keep in mind here is although the example is drawn from B2C marketing, the ideas are easily transferable and ultimately advantageous to any email program that realizes how rapidly B2B and B2C marketing segments are eroding.
A few things he pointed out in this example were:
Personal – The email initially engages the recipient with a personal greeting
Tone – Copy is written in relational language that is easy to understand
Connect your offer to a prospect's behavior
The technology tools available to email marketers these days are amazingly sophisticated.
Marketers can segment, automate and personalize like never before.
But unless you can connect your offer to a prospect's position in the purchase cycle based on behavior, you're going to have a tough go of making a meaningful connection.
Flint's illustration emphasizes that point by highlighting a known behavior about the prospect.
"Look at how the first sentence begins to connect the offer of the email to the specific behavior of the recipient. Flint explained, "This email is going to give the customers just enough to move forward in the conversation, and it's also reminding you why you're receiving this."
Build interest before the "ask."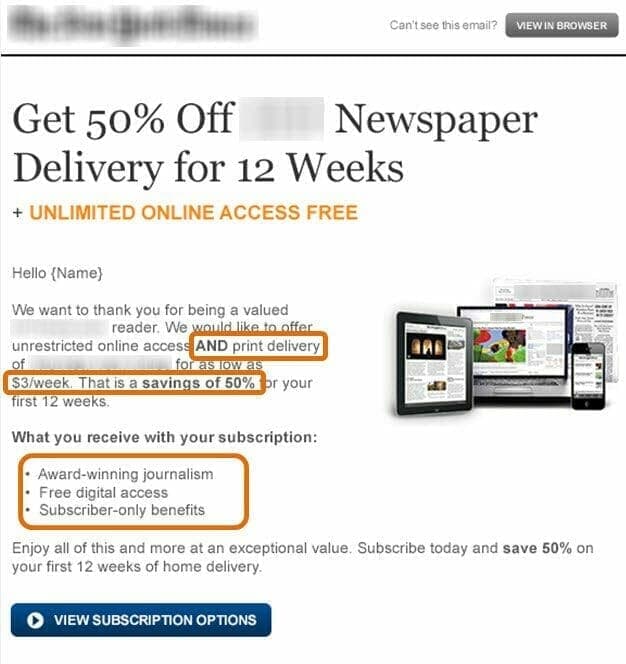 Delivering value is all about building interest.
Copy that clearly answers the question, "What do I get out of this?" for a prospect while resisting the temptation to sell is key to doing this effectively, or as Flint puts it, "Clarity trumps persuasion."
An email is just a vessel.
One big takeaway from this session is essentially thinking about copywriting and ultimately thinking about the email itself.
If you strip away all copy, images, and expectations, emails are an empty vessel waiting to be filled.
They can be filled with valuable content, perceived as useful and delightful to the recipient.
Or they can be filled with another sales pitch thrown at the list with the hopes that a few a stick and click.
How we choose to fill those vessels for our prospects is truly how we are serving them.
And that choice is up to us.
You may also like
Marketing Automation: IT company boosts leads 59%, generates $1.5 million with system implementation [Case study]
Customer-centric Marketing: Survey program turned 30% of unsatisfied software customers into brand advocates [Case study]
Email Marketing: 2 campaigns that used innovative creative to generate leads [More from the blogs]
E-commerce: Harnessing the power of email automation and behavior-based marketing to increase conversions [Case study]