How often do you spend weeks or even months putting blood, sweat, and tears into a new marketing campaign, only to have it fall flat?
It's a marketer's worst nightmare.
You swear you did everything right, but when it comes time for the results to pour in, they never show.
The likely culprit? Bad buyer personas.
Think about it, your buyer personas are the building blocks of your marketing campaigns. If they're not good enough, every part of your marketing strategy will suffer.
That's why I'm sharing five easy ways to improve your buyer personas. Keep reading!
What is a buyer persona?
In the most basic sense of the phrase, a buyer persona is a profile of your ideal customer.  These profiles are made up of existing customer data, anecdotal observations, industry research and much, much more.
Large companies often have multiple buyer personas that span multiple industries, demographics, and product offerings. Whereas smaller companies often have fewer, less targeted buyer personas.
To create a buyer persona, you must analyze your current customer base and identify any common traits and characteristics.
Do your customers work at companies of a certain size?
Do they hold similar job titles?
Do they work within the same industry?
Do they use the same software?
Alone, these traits may not be significant—but when combined inside a buyer persona, they give you a comprehensive view of your typical customer.
What does a buyer persona look like?
A very basic buyer persona looks like this: A 30 to 45-year old male, who works in software sales, at a company of 300+ employees.
A more complex buyer persona extends beyond surface level details and includes other factors like common complaints, shared opinions, buying preferences, and more.
Here's a basic example from Brightspark Consulting: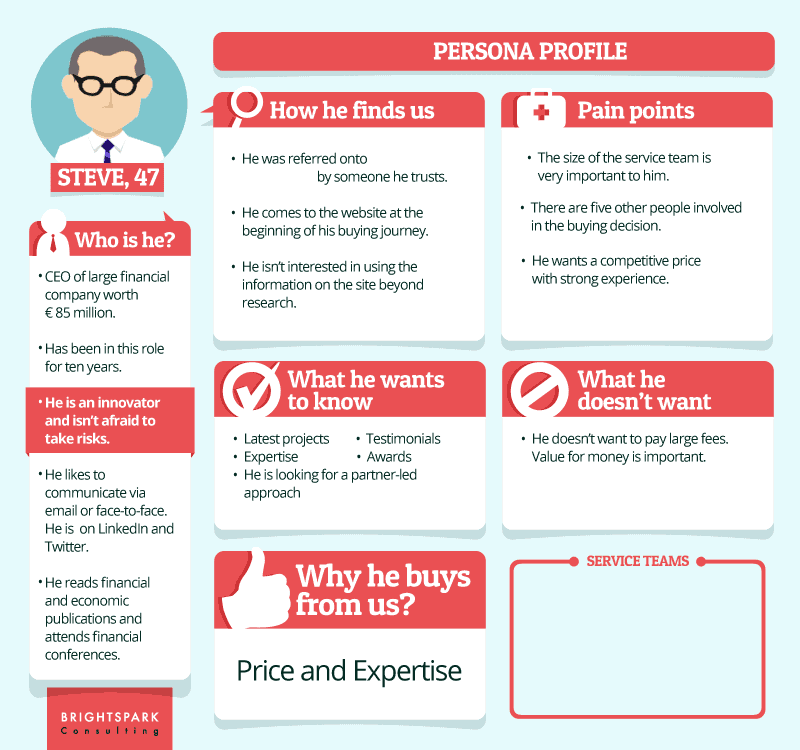 Unfortunately, the more complex your buyer persona, the longer it takes to construct. The best buyer personas are highly targeted and require a significant amount of analysis, research, and time.
Before we dive in, let us explain why buyer personas are so important.
Why are buyer personas critical to modern marketing?
Buyer personas are a modern marketer's best friend. When you use buyer personas to inform each and every part of your marketing strategy, you tailor your decisions to the preferences of your ideal customers.
Therefore, a set of detailed buyer personas can have a massive effect on your marketing results. Consider these statistics (source):
Companies who exceed lead and revenue goals are four times as likely to use buyer personas for demand generation than those who missed lead and revenue goals.
56% of companies have generated higher quality leads using buyer personas.
36% of companies have created shorted sales cycles using buyer personas.
24% of companies generated more leads using buyer personas.
93% of companies who exceed lead and revenue goals segment their database by buyer persona.
Five reasons your buyer personas aren't good enough
It's evident that buyer personas are critical to marketing performance.
But shockingly, 60-70% of B2B marketers admit that they don't truly understand their buyers (source).
This means that, although many marketers create buyer personas, they probably aren't very effective.  Today we solve that problem.
If you're not reaching the right audience, or your marketing results have plateaued, perhaps we can tell you why.
Keep reading for the five most common reasons your buyer personas aren't as effective as they could be.
Reason #1: They don't include technographic information
Marketers have been using demographic information to target potential customers since the dawn of time. Technographics, on the other hand, are relatively new.
For those who aren't familiar, technographics are the tools and technologies a company uses to operate. This includes everything from social media management tools to the platform a company uses to manage their website. But, technographic data isn't just a tool or set of tools. It also includes vital information about how your prospects use and purchase technology.
Although demographic and firmographic data is essential, your buyer personas aren't complete without technographic data. Consider this—with insight into the tools your prospects use, you can target your competitor's customer base or identify important trends happening within your industry.
Here's an example from VentureBeat: A financial tech firm noticed that Eloqua marketing automation was a predictive signal for its top prospects. The company is in a completely separate vertical, so it wouldn't make sense to personalize messages about this platform.
However, it did help them deduce a few things. They recognized that companies running Eloqua tend to have a certain level of technical sophistication, and are usually big enough to be able to afford premium enterprise systems.
Reason #2: They're built off of biases
As hard as we try not to, all marketers have their own biases. It's easy to forget that not everyone thinks about your products or your brand the way you do. Unfortunately, these biases can influence your buyer personas and make them unreliable.
 If you're not sure whether your own biases have influenced your buyer personas, ask yourself the following questions:
Do my personas mirror the customer journey we most commonly see?
If a customer read this profile of themselves, would they agree with it?
Do I have evidence to support each and every assertion within my buyer personas?
Do I ever overstate or overestimate the need for the product I'm trying to sell?
If my sales team read this profile of our best buyer, would they agree with it?
Do I ever overstate or overestimate the product's ability to solve my customer's problem?
Ask yourself these questions and truly try to think like your customer. If all else fails, hire an analyst, survey your customers, and ask other departments within your company to check your work.
Reason #3: You set it and forget it
If you've been in marketing for any length of time, it's likely that you've already created your buyer personas. Maybe they're effective—maybe they're not. But chances are, if it's been longer than six months, you need to revisit them.
Data changes, trends fade, and buying habits evolve as technology advances. It's important that your buyer personas take these changes into account.  After initial buyer persona creation, put a recurring meeting on your calendar to review them.
Keep track of any important changes within the industry, your company, your product, technological advances, and buying motivators.
When it comes time to review, make sure your personas reflect these changes. After all, your customers aren't static and neither are your buyer personas. Don't treat them as such.
Reason #4: You don't have enough
If you're a small company with one product, a single buyer persona may be enough to fuel your marketing campaigns. But chances are, it won't be enough.
If you feel like your buyer personas are ineffective, it could be that they're not granular enough.
In today's marketing landscape, your customers expect all marketing communications to be tailored to their specific wants and needs. Consider these statistics:
Take a look at each of your personas and the campaigns you've used to target them. Is the content you're serving truly relevant to each person within that audience? Consider removing any outliers and creating a separate buyer persona for them.
Reason #5: They lack motivation and emotive context
If you only use quantitative metrics to compose your buyer personas, they likely won't perform well.
This is because your customers and prospects are people—not numbers. Some people buy products on a whim. Others take a year to consult with an entire buying committee before spending money. Something that triggers a purchase for one customer may have no effect on another customer.
To create effective buyer personas, you must consult your sales and customer service teams to gather anecdotal evidence.
Determine what motivates each of your buyers to make a purchase. Is it frustration? Is it the satisfaction of getting a good deal? Or did you just catch them at the right time?
This information is crucial. Without it, you don't truly understand your customers.
Key Takeaways
Buyer personas are essential to marketing—but only if they're created correctly and aren't neglected. It's important that, as a marketer, you recognize the power of buyer personas and dedicate the time and effort needed to create them.
You may also like
New B2B Persona Research From Salesforce and LinkedIn Study
Customer-centric Marketing: Using metaphors in your B2B strategy
Content Marketing: 4 stages to mapping your content strategy