"With the rise of content marketing, a lot of businesses get stuck in the eBook rut," says Linda West (@misslindawest), Director of Digital Marketing at Act-On Software, a rapidly growing company that makes a marketing automation Software as a Service (SaaS).
Linda and her team are taking a different path.  "We're ending our dependency on eBooks." And no wonder.  "We went from zero to 20% to 30% of our opportunities in Salesforce.com resulting from video in the first six months."
A Shift in Customer Behavior in Content Marketing
Like many B2B companies, the Act-On team was using eBooks and live-casting webinar videos to drive a high volume of leads. Gradually, the team began to see a decline in people registering for webinars and a further decline in the percentage of people who attended the live event.  However, there was a rise in the number of people watching the on-demand webinars.
People weren't registering with the intent of watching a live event.  They were registering with the intent of watching a replay at a time convenient to them.
The Way People Learn
"We started talking about what to do," says Linda. "When I ask myself how much I read, it is maybe one book a month. But I watch videos all the time. Video is a big part of how most people absorb stories."  Research by eMarketer bears out Linda's observation: US consumers spent five and a half hours per day in 2015 watching the video, increasing 34 minutes from 2011.
The Most Successful B2B Companies Are Using Video
As the tools for creating professional video have reduced production costs, innovative marketers like Act-On are shifting resources to video and seeing great returns. For example, Aberdeen noted that marketers using video are growing revenue 49% faster than those who don't use video.
 The Falling Cost of Video
"A lot of people perceive video as expensive and scary," says Linda. However, she notes that the cost of tools for creating videos is falling, and those tools are getting easier to use. The rise of cameras and video recording on smartphones has lowered the barrier to entry, too.
"You just have to jump in," says Linda. "We built a recording studio in what was a broom closet. We covered it in sound foam and bought a green screen on Amazon. We shot our first video with an iPhone. We hacked it together. And it worked."
Linda and her team do 90% of the videos in-house. They have one person, a former writer, dedicated to video plus some people who contribute to scriptwriting and ideation or who do quick edits on videos.
Predictive Engagement Metrics of Video
With eBooks and white papers, you can see that someone downloads the asset, but you lose visibility on how engaged they really are. Not so with video.  Not surprisingly, the Act-On team noticed a correlation with the level of engagement and downstream conversion.
"We use the Vidyard platform for a video hub," says Linda. "One of the things we really like about the platform, aside from our ability to personalize videos and integrate calls-to-action and lead capture forms at any point in the video, is the rich analytics."  Act-On integrated these Vidyard engagement metrics into the lead scoring functionality in the Act-On marketing automation software.
Rapid Optimization of Video through Testing
The robust analytics gave rise to rapid experimentation at Act-On.  "We started to see where people were dropping off when watching our webinars."  The analytics let the team optimize webinars with new content and experiment with length and different techniques, including interactive video, personalized video, animation, video with high production values, and quick videos.
Using Video Throughout the Buyer's Journey
Because of this testing and optimization, Act-On stopped thinking of video as an afterthought and started using video throughout the Buyer's Journey.
"Inbound (Marketing) Isn't Enough" is an example of a top-of-the-funnel video.
It's ungated and published on YouTube and Twitter.
"Rethink Marketing Automation" is an example of a mid-funnel video.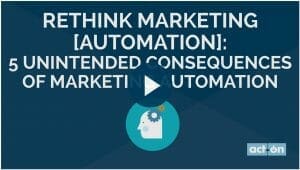 Topics like these focus on marketing automation or topics that marketing automation accelerates.  Clicking on the video reveals an instant lead capture form in the Vidyard platform.
Case studies like "Success Story: iCharts" are deeper in the funnel.
"This success story is validating using marketing automation, so Act-On uses this type of video in the Opportunity stage," says Linda.
Another deeper-in-the-funnel example is the video, "Act-On Product Tour."
"We call this our million-dollar video because it was the first video that contributed a million dollars in closed business." It's a simple, eight-minute video that is the evolution of what was once a live event demonstration.
With any of the videos, the Act-On salespeople can see what people watched and how long they watched a given video. This insight leads to much richer conversations and higher close ratios.
Marketing Innovation
When I used to work at MarketingSherpa, I had thousands of conversations with marketers like Linda working for various marketing SaaS platforms, like Act-On.  (They were interested in learning about options to access the Sherpa audience.) So I would ask a simple question: who is your ideal customer? Marketers working for companies with new technologies would consistently say that other software companies were the ones buying their SaaS platform.
It's not surprising.  If you want to see what the future of B2B marketing is, look at software companies.  It's not just that they make innovative products in a highly competitive market.  They tend to innovate in every facet of their business: marketing, sales, HR, etc. They are the innovators and early adopters of everything.  That's why the story of Linda West is one you might want to share with your colleagues.
Live-Action Versus Animation in Your Videos
Speaking of innovation, an area that is heating up is the use of live-action versus animation. If that's of interest to you, this post breaks down the strengths and weaknesses of each of these video techniques and talks about and shows examples of the power of combining animation and live-action in the same video.
Let me know what you think.
You May Also Like
How a technology company used its employees to generate quality content
B2B Marketing: 3 reasons for adopting video content into your marketing mix