To be successful at lead generation, marketers can't rely on one specific tactic. Rather, they must leverage a portfolio of channels.
Learn from portfolio managers
The best marketers approach their work as a portfolio manager would run a mutual fund.
Portfolio managers are constantly thinking about, and testing, the optimal investment strategy.
They analyze the financial marketplace and make choices that balance high risk and high reward with tried-and-true methods to achieve the highest return from their investment portfolio.
A while ago, I created a mind map of lead generation channels for my book Lead Generation for the Complex Sale.
I've updated it to include more content marketing and social media channels. I hope you find it helpful. You click the map image to expand it: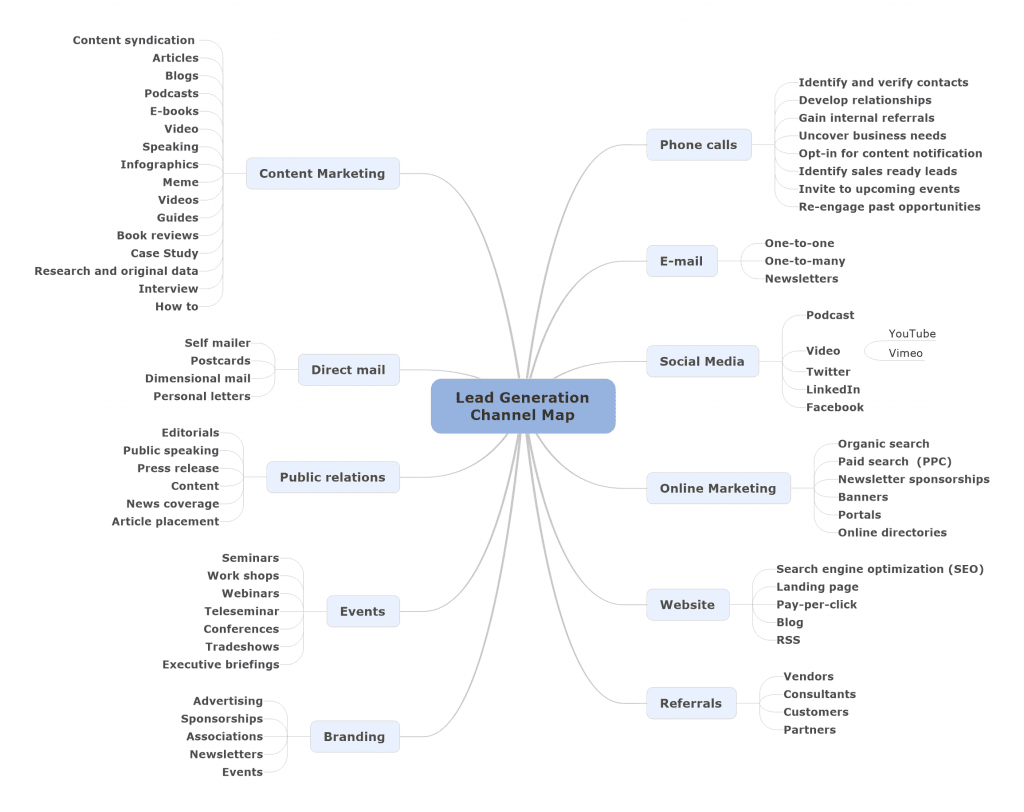 How do you determine which channels are the best for generating leads and finding future customers?
One approach is testing several different lead generation channels — and measuring the results.
If you're still not sure where to start, here's a list of the most widely used lead generation tactics.
Here are a few other ways you can use this map:
Choose more channels to test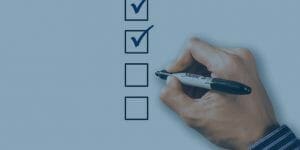 As you look over the lead generation channel map, ask yourself a few questions:
Which of these channels are we using?
Which are our competitors using?
Do you know how your tactics are performing?
Now think of what you know about your customers' buying process. Are they working together in a complementary way to connect each step in the customer's buying process?
Use your answers from the previous questions to identify the gaps.
Build your demand generation calendar
Create a lead generation calendar for the year. Map out anticipated marketing programs by month and quarter. At a minimum, map out your activities for each month.
Create a plan to add value every time you touch your future customers with relevant ideas, content, and resources.
Also, build an effective closed-looped feedback system to capture feedback from your sales force that can be converted into actionable ideas to optimize your channels.
Optimize your current channels
Review your channels in terms of what's working and what's not, and make adjustments.
If you can't measure your marketing channels in terms of return on investment to the organization — leads generated, opportunities in the funnel and business closed — why should your company "invest in your fund?"
When was the last time you looked at your channels and asked, "How can I make this channel perform better?"
You also might like:
New Research: Customer Empathy and How to Solve Buying Problems
Multichannel Marketing: 6 challenges for planning complex campaigns [More from the blogs]
31 Tips for Improving Sales and Marketing Lead Generation Alignment[More from the blogs]
Lead Gen Tactics from 4 MarketingSherpa Case Studies [More from the blogs]
Lead Generation: Customers are looking for a solution to their problems [More from the blogs]
How optimization increased sales development rep leads by 304%