Editor's Note: Buy, build, or both? This is the eternal quandary for many marketers and salespeople looking for a reliable list to contact. In this final blog post in the series (check out the previous posts here: "List Buying: 3 reasons why this tactic can be deadly for marketers" and "Buy, Build or Both Part 2: The basics of list building," Brian Carroll provides tips for effective list buying if you choose to go that route.
Remember when you were in college, studying hours every single night so that you never had to cram when final exams came.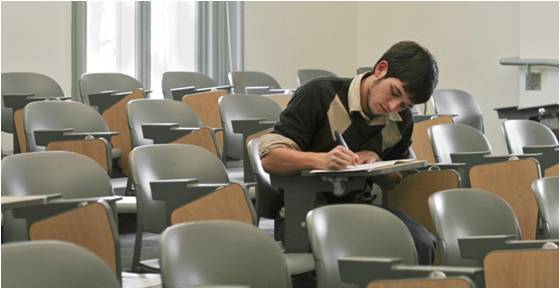 Me neither.
Let me clarify: I did more than my share of steady studying, but I also ended up cramming for an exam once in a while. Life sometimes got in the way of doing things perfectly, just like it does today.
So it is with list building. While we would all like our ideal customers to opt in to our lists through continuous, consistent inbound marketing, sometimes we're going to miss a few.
Sometimes there isn't the executive buy-in and the budget that comes with it to carry out the kind of inbound marketing campaigns that attract every prospect to opt-in. And, sometimes, there isn't enough time.
6 tips for purchasing the best list possible
So, when you must purchase a list, I recommend that you do the following:
1. Know who you're targeting.
Here's a brief rundown on how you identify that ideal customer:
Rank your customers by most profitable, best revenue, and easiest with which to do business.
And then rank by least profitable, worst revenue, and hardest with which to do business.
Now, evaluate the characteristics of the top five companies on each list.
What characteristics link the best and the worst?
This information is what you need to paint a picture of your ideal customer. Take it to the next step by noting the following:
Annual revenue and geographic reach
Industry vertical, including common keywords that identify the companies and Standard Industrial Classification (SIC) and North American Industrial Classification (NAICS)
Number of employees
Decision-maker roles
Psychographics such as values, culture, and internal and external issues that influence their buying decisions
Without this basic information, don't invest in a list.
Learn more about building your ideal customer profile in this article: "Lead Generation Checklist – Part 3: Develop and intensify your Ideal Customer Profile."
2. Consider using these Dun & Bradstreet or InfoGroup as a starting point for general business lists.
They have all the basic demographic data you'll typically need, but you'll have to do more research to fit your ideal customer profile. Furthermore, if you want to reach anything other than top executives, you'll have to add those contacts yourself. But it's a good place to start.
3. Find a consultative list provider.
List sellers can be very pushy; look for one rewarded by how well he serves, not how much he sells. When looking at list providers:
Be clear that you are buying a list, not renting. Many companies only rent lists, so you can only use them for a specific period or number of times. This doesn't work well for an ongoing demand generation.
Make sure it includes the right demographic data to reach your ideal customer.
Find out if they can create lists by both keyword and SIC code and identify contacts who have purchased products or services similar to yours.
4. Invest in the best, not the cheapest.
My team discovered through testing that the cheapest list is actually 60% more costly than the most expensive one.
Here's the story in a nutshell:
We were doing lead generation for a billion-dollar telecommunications company.
We compared the cheapest list (names collected from business cards) with the most expensive one, where data was compared against multiple sources, and names, titles, and roles were each verified with a phone call.
We made 312 phone calls with the same staff, used an identical script, and called at the same time of day. We compared the number of calls to:
Attain a lead – It took just 77 calls to attain a sales-ready lead with the most expensive list; it took 240 with the least.
Disqualify a contact – With the most expensive list, it took 90 calls. With the least expensive, it took merely 11.
With the cheap list, 67% of the people on the list were no longer with the company!
In a month of calling, our experiment revealed the cost per lead with the most expensive list was $373; the cost per lead with the cheapest list was $954.
You can watch more of this story here: Optimizing the Lead: Learn a data-driven optimization process that reduced cost-per-lead by more than 60% in one month.
5. Test your lists even if they're internal.
Call about 300 contacts to find out if:
Review to see if there are duplicate data
Check if the information is current and complete
And confirm the contacts are actually in your target market.
If more than one in 20 fails, the list definitely needs a good cleaning before it's used.
In the Direct Marketing News article, "Brands Enhance Lead Generation Strategies," Michael Feldstein, Director of Marketing at Boardroom, Inc., a direct response publishing company, says he is "never sure" if a list he has purchased is accurate and current.
"That's why we always test," he explains. "If we have 50,000 names, we'll test 5,000." He says he does his best to buy names from companies he can trust and won't preload the test with good names.
6. Make one person the list expert
You can have the best campaign, but it won't get the results it deserves if your list is garbage. I have found that at least half of the success of an outbound campaign hinges on list quality. That's why you need at least one person dedicated to monitoring, updating, and maintaining your lists.
Again, everyone who could benefit from your product and service would find you and opt-in to be on our lists in a perfect world. But the world is imperfect; all we can do is the best we can with what we have. I hope my tips help, and I invite you to add any others in the comments below.
You may also like:
Do You Expect Your Inside Sales Team to Practice Alchemy?
How to Build a Quality List and Make Data Drive Leads
Teleprospecting: When cutting response time is a priority (and when it's not)
Ideal Customer Profiles: 5 steps to ensure your lead generation stays on target
10 Ways to Optimize Your Lead Conversion Rate