After a short (and rather scenic) water taxi ride from the airport, I've settled into one of the Value Proposition Development Course sessions led by Austin McCraw, Senior Editorial Analyst, MECLABS teaches marketers how to craft and express value propositions.
"I want to take the theory that we have put in place so far and bring it down to a ground floor level of application," Austin said.
So, today's B2B Lead Blog will highlight that
ground floor application from Austin's session by showing you how you can craft a value proposition in five simple steps. Our goal is to give marketers a framework they can use to identify and express a value proposition using the MECLABS value proposition worksheet.
However, before we get started, take a moment to download this worksheet to aid your value proposition efforts, and let's get clear on what a value proposition is exactly.
What is a value proposition?
According to Austin, there's a fundamental question every customer wants to be answered that directly impacts your ability to capture and convert – "If I'm your ideal prospect, why should I buy from you rather than any of your competitors?"
"Your value proposition is the ultimate reason why your prospects should do business with you," Austin explained.
To put this further into perspective, take a moment to ask yourself, "Can I clearly and succinctly state the core value proposition of the product or service that I am marketing?" and write down your answer.
If what you wrote down resembles any of these …
"We empower your software decisions."
"I don't sell products and services; I sell results — my guarantee."
"We help companies find their passion and purpose."
"We are the leading [insert your service here] provider."
"We give XX% off for new clients."
"This site has the solution your company is looking for."
Then it's very likely your marketing campaigns are underperforming from poorly-crafted value propositions that are also likely leaving some serious leads and revenue on the table.
Step #1: Identify the value proposition question

Austin explained the first step in crafting a value proposition is to identify the type of value proposition you need to answer.
"Once you have identified the value proposition question you want to answer, you have already won half of the battle," Austin said.
And so, you first have to choose which question you want to answer; be it the primary question of "If I'm your ideal prospect, why should I buy from you rather than any of your competitors?" or a derivative value proposition that has a much more granular focus on your products or process.
Step #2: Identify potential claims of value
The next step is to list some potential claims of value that answer the primary value proposition question we identified in step one.
To illustrate this, I created a hypothetical email service provider and listed some potential claims of value.
Step #3: Rate the appeal and exclusivity for each claim

After you've listed some possible claims, rank them from one through five according to their appeal and exclusivity, of which:
Appeal – "How much is this offer desired by the market?"
Exclusivity – "Is this offer available anywhere else in the market?"
In keeping with our example, let's take a deeper look at the appeal and exclusivity of our highest-ranking example claim.
"We can integrate into any social media platform."
Appeal: 4.5 – The ability to conduct multi-channel marketing with your emails is going to have a reasonably high amount of appeal to our hypothetical ideal prospect.
Exclusivity: 5.0 – While there may be other players in our market, our business intelligence has determined that we are the only ESP currently capable of integration into every social media platform.
Step #4: Identify evidence for your highest-ranked claims

Evidentials are the backbone of your potential claim because they make your claim quantifiable, or as Austin explained,  "Once you understand your appeal and exclusivity, you want to begin building supporting credibility with your evidential."
To help intensify the credibility of potential claims, Austin shared three key principles for selecting evidential:
Specification – Substitute general descriptions with specific facts.
Quantification – Quantify your claims.
Verification – Let someone else do your bragging.
Step #5: Combine the highest-ranked claims with supporting evidence to back them up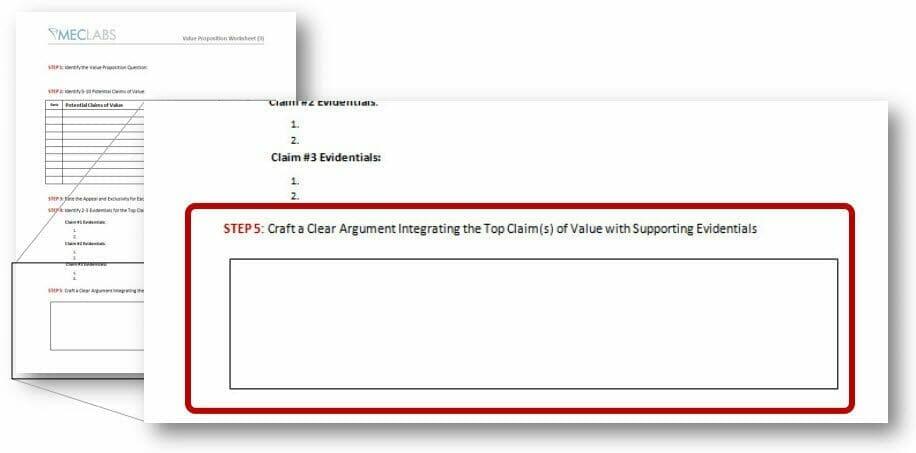 This is where you bring it all together – by taking your highest-ranked claims and their supporting evidential and turning them into what Austin described as "the ultimate conclusion as to why prospects should buy from you."
Related Resources:
Lead Generation: Does your teleprospecting deliver value to prospects?
Value Proposition: Congress has a value exchange problem … do your marketing offers?
Value Prop: Is there a true value in your marketing proposition?
Customer Value: The 4 essential levels of value propositions
4 Perspectives That Should Shape Your View of Value Propositions