"You don't optimize a landing page or an email. You optimize the thought sequence of the customer."
This is one of my favorite aphorisms from Flint McGlaughlin, Managing Director, MECLABS, parent company of MarketingSherpa.
That approach works well for the short time someone is engaging your landing page or another marketing medium, but what about longer time horizons common to complex B2B sales?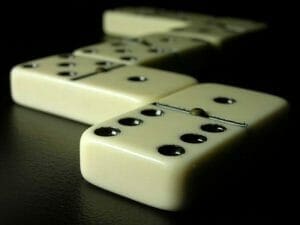 Let me illustrate the answer with a case study where I first learned about what I will refer to as the "domino theory" of content marketing.
You've seen scenarios where one domino can knock over the next domino, creating a chain reaction. That's a perfect metaphor for content marketing in B2B, not just within the buying cycle, but across the lifecycle of a customer.
Too often, marketers think of content marketing as only text and graphics; white papers, e-books or infographics. But, content marketing is the entire experience of your customer across your customer-facing brand touchpoints.
In that context, content marketing can include social, video, mobile, customer service, sales, event marketing, and even the products and services customers buy from you. You should orchestrate any and all of these elements into a domino framework aligned to the growing relationship and expectations of your customers.
My client was, at the time of this case study, the world's largest mergers and acquisitions (M&A) company serving the mid-market. The target was the CEO of a $3 million to $100 million company. This scenario presented one key challenge: CEOs of mid-market companies are the original do-it-yourselfers. They were totally disinclined to seek the services of an M&A firm.
To address this issue, the company had a highly structured four-step process:
Domino #1: The company invited CEOs to opt-in to a by-invitation-only quarterly newsletter that shared proprietary information about selling mid-market companies. The newsletters went to the private residence of the CEO to keep such a sensitive topic from worrying existing employees.
Domino #2: Those CEOs would then be invited to an exclusive one or two-day workshop at a five-star destination resort. The workshop was led by a former CEO who had sold his own company. Networking with other CEOs was part of the appeal, as was the opportunity to write-off a mini vacation. These workshops, which had an unconditional money-back guarantee of satisfaction, helped CEOs understand the complexity and danger of attempting to sell their own company and the legitimate advantages of using a third party.
Domino #3: At the end of the workshop, seminar leaders would introduce a service for packaging the company for sell.
Domino #4: By looking closely at the financials and other considerations, the M&A firm could then prioritize the most viable companies and market a deep portfolio of potential acquisition candidates to their own buyer community.
I have seen this domino theory of content marketing repeated many times. The key is always really digging in and understanding the motivations of your customers and then designing content – in its broadest sense – that takes them on a long journey through the lifecycle of your relationship with them.
In this case, the content was not just the direct mail, email, landing page or newsletter, but the nuance of making this a highly confidential matter that warranted gaining the home address of the CEO, the upscale resort, the opportunity to network with other CEOs in a similar situation and even the evaluation service.
More importantly, the M&A company sequenced this content to move the customer systematically through a complex decision.
In this sense, content marketing isn't just words and images, but it's a set of experiences that occur in many months or years. To paraphrase Flint, you are not optimizing content; you are optimizing the lifetime of your relationship with each customer.
You may also like
B2B Marketing: Relevant content must move beyond "glitz" and tell a properly sequenced story
How to Use Conversational Marketing to Get More Leads
How Empathy Will Grow Your Sales and Marketing Pipeline
B2B Content Marketing: Will Video Kill eBooks?