I am at the earliest stages of developing a sequel to Lead Generation for the Complex Sale. It's been a decade since the first draft and I've been contemplating how much business has changed since then.
Today's sales and marketing environment is a paradox:
There have never been more opportunities to reach customers; yet reaching them has never been more challenging.
The problem we all face in marketing
We have more marketing channels than ever. We've moved from traditional advertising to social media, content marketing and beyond.
But, I can't help but wonder, as we have more ways to talk to our customers, are they really listening? Or are they shutting us out as we hurl more pitches at them from different angles?
I believe you can't really answer that question unless you know precisely what your customers want. This requires letting go of our own assumptions of what we think they want and putting ourselves in their place.
Why we must embrace empathy-based marketing
This requires empathy, which according to Miriam-Webster, "is the ability to share someone else's feeling." To feel what they feel and think what they think.
Unfortunately, too many in corporate America believe sociopathic behavior – being laser-focused on getting what you want at the expense of everyone else – accelerates businesses and careers to success.
That's so "Wolf of Wall Street." What worked two decades ago won't work today. Sociopathic behavior may be why too many businesses are struggling.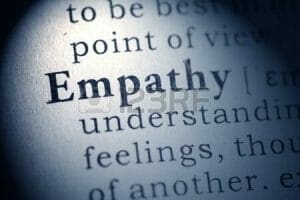 I believe to succeed in the new millennium, we must embrace empathy on every level with every customer – both internal and external. Our customers are more sophisticated than ever and have access to more information and more options. There's no room for game-playing or guessing. We have to know what they want and give that to them.
Here's an overview of what I believe can help achieve this. I plan on expanding on these points in future B2B Lead Roundtable Blog posts:
1. Put the customer first.
Instead of worrying about being interesting, we need to first be interested. Understand the customer's motivation (what they want) and make sure that's aligned with what we can deliver.
2. Listen and seek to understand.
Do we know why our customers say "yes"? Why are they buying from us? What are the steps they need take to say "yes"? What difference have we made for our customers because they bought our product or service?
3. Stop marketing, start conversing.
Focus on developing conversations, not campaigns. Don't err on the side of pushing our agenda rather than extending an invitation to converse. To the customer, it feels like "somebody wants something from me" rather than "maybe they can help me get what I want." We need to demonstrate that we're interested in their world and their motivations. Invite, listen, engage and recommend.
4. Help them along the journey.
The best marketing and sales doesn't feel like marketing and sales at all. It feels like helping because it is. Our lead nurturing needs to be built on this concept.
5. Give them content they'll want to share.
This organically emerges from the first four points of placing the customer first, understanding them, conversing with them and helping them.
6. Remember that proximity is influence.
Empower those closest to our customer – the sales team, inside sales team, sales engineers and customer service people – to be able to achieve the points above.
7. Practice empathy personally to set an example.
Our customers are everyone we serve – including our staff and our coworkers. Show them how it's done by practicing empathy yourself.
This introduces another paradox: We've never been more advanced with ways to connect with prospects, but we're still not communicating effectively with them. A good start to doing that effectively begins with empathy.
What are your thoughts? Do you think empathetic marketing is achievable for your organization, why or why not?
You may also like
7 Tips to Boost Lead Nurturing Results Immediately Ebook
Getting Sales Enablement Right to Increase Results
Bring more innovation to your demand generation now
The Most Important B2B Marketing Metrics for CEOs
Stuck on Words: How Can Marketing Connect with Customers Better?