My checklist for optimizing the lead generation process so far has included six steps: the mindset of not pushing; repairing the rift between sales and marketing; creating the ideal customer profile (and the un-ideal customer profile as well); agreeing upon a universal lead definition that fits your company's goals and culture; importance of a well maintained database; and, in step 6, I outlined a multi-modal approach and discussed its importance in the lead gen process. Today I'd like to discuss the aspects of an effective lead management process.
I'm not sure why many organizations think it's acceptable to only get a return on about 20% of their leads when an optimized lead management process can tremendously help to convert more of those hard earned leads in the sales pipeline.
The role of effective lead management is to watch and direct the conversion of sales leads into customers and to track milestones and touch points. Some will describe lead management as the process of going from "the first contact to close."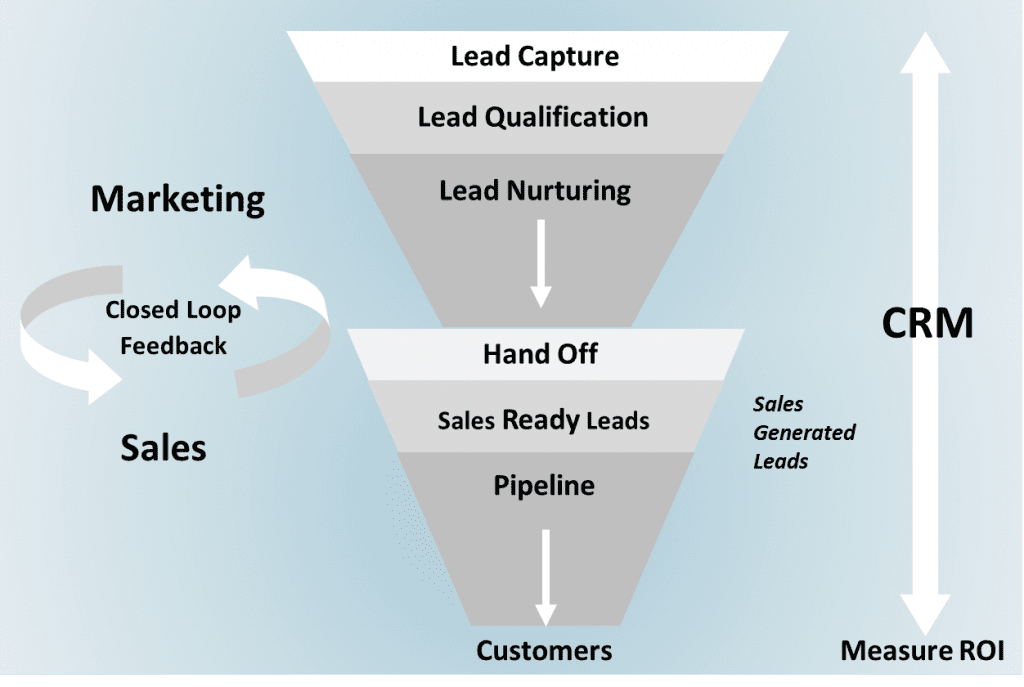 Lead management is the bridge between sales and marketing that connects the beginning and middle of the customer acquisition process. (Download the marketing sales funnel graphic as a PDF)
Implement and enforce standard universal lead scoring definitions (ULD). Don't just create your ideal definition of a lead and then bury it. Make it a part of your company's culture.
Deal with inquiries centrally and pre-qualified before going to the sales team. Only send over sales-ready leads to the sales team using your ULD as the standard against which they are qualified. Don't overlook the phone's role in this step: it's still the best way to ensure a lead is sales ready and a good fit for your organization. It's timely, interactive, and personal—the perfect combination of assets for building a relationship.
Define a clear process for the handling and distributing of inquiries and leads. Provide qualification information for each lead while making it clear who owns the lead. Require a time-limit on a turnaround once leads are distributed, and track the lead throughout the process.
Identify the best opportunities based on the application of a consistent methodology.
Fullfill the promise of information in a timely manner.
Assign and define responsibility for lead tracking. Effectively tracking leads is often a challenging aspect of lead management, particularly in companies where sales activities seem to be perpetually in a black box.
Track, measure, and report on all leads until closure to evaluate the lead generation program.
Measure sales performance based on objective criteria.
Measure sales lead acceptance and follow-up by sales team
Define mechanisms and incentives for sales team feedback and updating.
Measure marketing revenue contribution and drive a faster return on marketing investment
Breakdowns in the lead management process often occur when lead generation is viewed as a series of campaigns without substantive integration. Instead, lead management should be an ongoing conversation. Other detriments to sound lead management also include the lack of:
Multi-modal tactics
An effective lead nurturing program
An effectively utilized or well-maintained database
Conformance with the lead gen program in general
Companies that adopt effective lead management processes generate more revenue from their lead generation investment. They'll also have an overall higher close rate on marketing-generated leads than those that do not.
Related Posts and Resources
How to do lead management that improves conversion

How to ensure every single lead is followed up on

Building a Marketing Funnel and More Lead Management Tips

Intro to Lead Generation: How to determine if a lead is qualified

How to Improve Lead Routing to Skyrocket Sales Results
How Customer-Hero Stories Help You Connect Better