How can a marketer, in one fell swoop …
Capture the attention of millions of potential prospects?
Meet with executives at a Fortune 500 company?
Engage with existing customers?
Create a centerpiece that enhances employee pride?
KeyedIn Solutions, a software technology and consulting company, has achieved it all with the sponsorship of up-and-coming golfing professional, Scott Piercy.  The company, not even a year and a half old, took a gamble on Piercy, as its leadership had previously witnessed success in sponsoring PGA Tour pros with another software organization.
It was a smart decision. Despite ranking below 170 on the World Golf Rankings at the start of 2012, Piercy now holds the 41st spot at the end of the season. For KeyedIn, this has paid off in many ways …
Get Brand exposure
Karen Adame, Chief Product Officer, KeyedIn, set up the sponsorship knowing it would draw attention.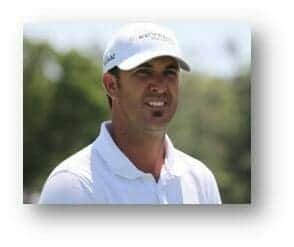 She notes that 45 million people a week watch the Golf Channel,  so every time Piercy achieves a prominent position on the leaderboard, KeyedIn does the same.
"Every great shot is replayed, and so is KeyedIn's logo — it's everywhere Piercy is," Adame said.
It is no wonder KeyedIn typically receives one or two prospect inquiries after golf events.
"When Piercy has a good round, there are interviews and photographs that millions see," Adame said. "And our logo, which includes our full name, appears on the screen every time."
KeyedIn promotes wins in advertisements, on its website and in emails.
Prospecting with top executives
After winning the 2012 RBC Canadian Open, Piercy was eligible to participate in the Bridgestone Invitational. Adame was there and had an opportunity to join Piercy in networking with executive leadership.
"He has a lot of interaction with executives and knows our company and our solutions very well, so Piercy actually does some prospecting for us off the course," Adame said.
Customer engagement
KeyedIn hosts golf events for its best customers to give them a chance to play and socialize with Piercy.
"Even though some may not be golfers, it can be cool for them to come out and rub shoulders with a celebrity," Adame said. "Golfing is a social sport; you tend to see more business-to-business interaction within the golfing community, and you can enjoy the game no matter your skill level. It's good for up-and-coming people and businesses, and gives them easier access to people they normally wouldn't have an opportunity to meet."
Employee engagement
Adame said sponsorship gives employees a common cause — someone to root for, a source of pride, and even a conversation starter.
"They could be on a plane sitting next to a golfer and say, 'Hey, do you know we sponsor Scott Piercy?' That can instantly spark interest and a conversation about KeyedIn," she said.
If these benefits impress you enough to consider sponsoring an athlete, Adame outlines the four questions to ask yourself before doing so:
1. Do you want to invest in this person for the long haul?
If he is on his way up, a longer contract may pay off because if he continues to perform, you will see a bigger return on your investment.
"We had a good feeling about Scott, so we created a longer-term contract,"  Adame said.
She advised building in bonuses for performance as an incentive.
2. How many corporate events will they participate in?
Specify in the contract every event they must attend and their required duties. Set crystal-clear expectations.
3. What circumstances will affect the contract?
"We selected Piercy for his playing abilities and his reputation as a devoted father and husband," Adame said. "For other organizations, this might not be important, but it ties in well with our values."
"Of course, depending on the sport, you may want to consider what happens if the player gets injured or something negative happens that affects him.  As in all contracts, it's important to plan for any potential issues in advance," she added.
4. How well does the athlete match your brand identity?
One of the primary reasons KeyedIn decided to sponsor Piercy was because his success reflected the success of KeyedIn.

"Piercy is one of the rising stars on the PGA Tour, which is underscored by him advancing more than 130 places in the World Golf Rankings in 2012," Adame said. "This perfectly illustrates the trajectory that KeyedIn is on in terms of our growth and our drive to help clients achieve."
Related Resources:
Test Before Putting Pedal to the Metal on Sponsorships
Storytelling and Brand Resurrection in the Age of Social Media
Customer-centric Marketing: Tap into your culture to differentiate from the competition
Guided by Buyers: 4 tactics to create a customer-centric sales and marketing strategy
2 Tips to connect and build rapport immediately