Have you looked at your lead management approach from the perspective of customer experience? If not, you may want to start now.
Here's why:
The average conversion rate of marketing qualified leads to customers is low. You may be wondering: how low?
According to Forrester, top performers convert 1.54% of marketing qualified leads to revenue. This means almost 98% people who start the customer journey are lost.

Also,  marketers see generating high-quality leads as their number one business challenge according to The 2017 State of Digital Marketing Report published by DemandWave.

I've learned that increasing your lead quality (or quantity) won't make much difference unless you can help people with their buying journey. It's about customer experience.
Why Customer experience matters
LeanData's 2017 study on lead routing and management found 57% of respondents questioned if their lead management workflow creates a positive customer experience. In other words, respondents weren't sure if people were happy with how they were being treated.
Clearly, there's room for improvement.
In this interview between Carlos Hidalgo and Carla Johnson on Finding Inspiration to Design Customer Experience Johnson states, "To create better experiences, we have to understand better the experiences we're trying to create and then think differently about how we design them."
You need to think about the experience you want to create for your potential customer while your optimize your lead management.
In this post, I'm going to explain how to do lead management that increases conversion from the perspective of customer experience.
Where lead management falls short
I find the top issues B2B companies have with lead management include:
Sending marketing qualified leads (MQLs) to salespeople without using criteria agreed upon by sales
Sending leads to sales based on behavioral lead scoring alone and not customer profile fit
Focusing on contact leads rather than unifying leads under correct accounts in their CRM
Lead nurturing relies on one channel like email, using automated workflows or has not been implemented for specific personas
Sales have not been given the ability to hand leads back to marketing to re-engage for further work or nurturing on their behalf
Lead management hasn't been viewed through the lens of customer experience
Lack of sales and marketing collaboration on the approach and process
These are just some of the reasons why it's more important than ever to make sure your team is properly managing leads, and why you need to optimize your approach.
Additionally, Altman Vilandrie & Company just published new research and found, "15% of businesses are fully taking advantage of all these B2B strategies – customer mapping, lead scoring, lead handoffs, coordinated upsell"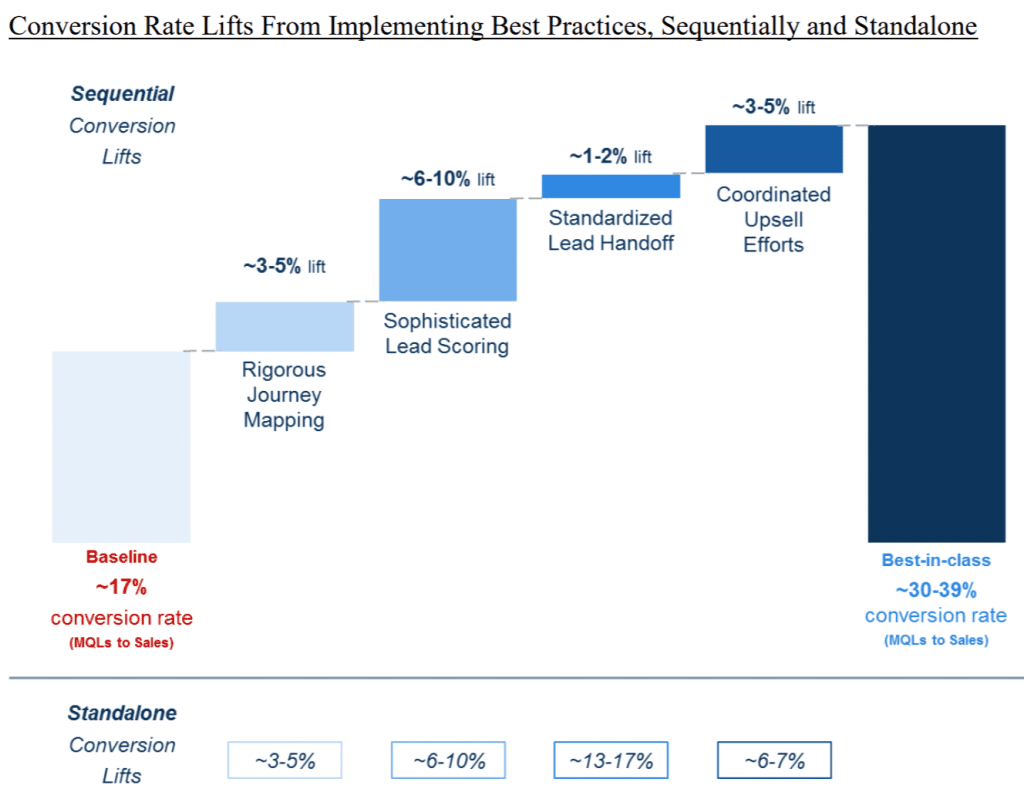 Intro to lead management 
Lead management is a multi-step process that handles the conversion of sales leads to customers. It's the process of managing and tracking customer touch points throughout buying journey, from the first contact to close.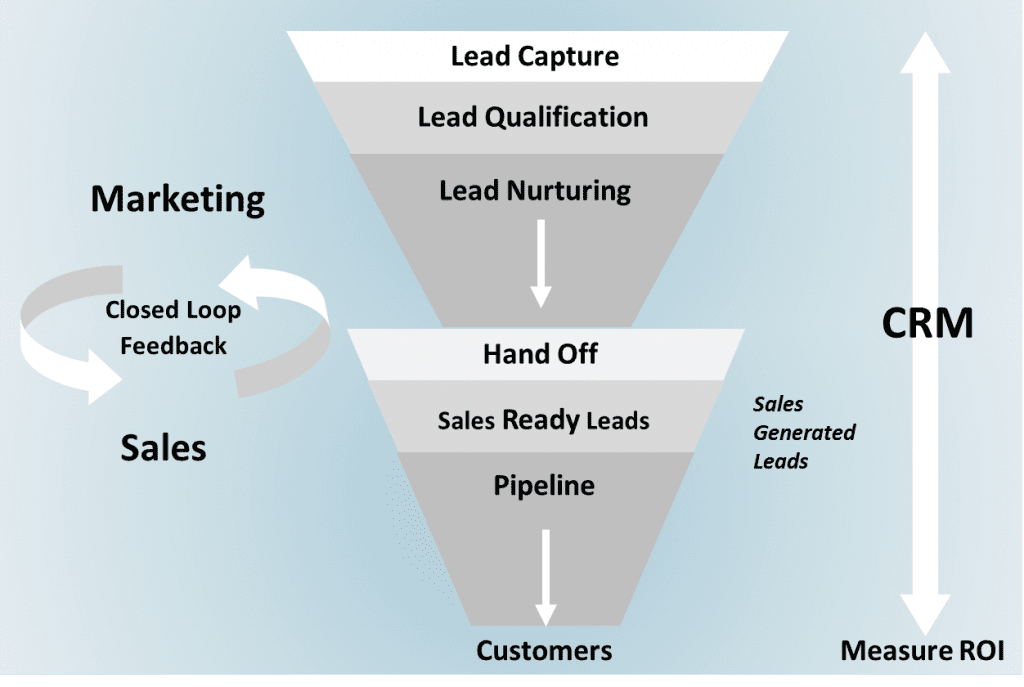 The above illustration shows components of lead management. The five major stages of a lead management process include the following:
Do you have your process for each of these steps documented and understood by key stakeholders? If not, start now.
Many marketers hope that buying marketing automation will drive better lead management processes. You need more than technology to optimize lead management. There are fundamental aspects of lead management that often get overlooked.
Lead Management Fundamentals 
Lead management includes the following components:
People involved
Dedicated sales development reps-  inside sales team who is connecting and qualifying leads
People focused on getting the highest conversion rates on leads and the most efficient cost per opportunity
Processes defined
Centralized lead qualification process before sending leads to the sales team
Process to filter raw inquiries and disqualify those that don't fit your ideal customer profile (ICP)
Create an agreement between sales and marketing on the definition of a qualified lead
Setup service level agreements (SLAs) between sales and marketing on what sales will do once they get a sales-ready lead.
Require a time-limit on a turnaround on leads after the hand-off, and track them throughout the process
Provide accurate qualification information for each lead and have a clear lead routing process
Lead nurturing content marketing to help progress early stage leads from interest toward purchase intent
Enabling Technology 
Marketing automation tools to enable lead scoring to focus the human touch not replace it
CRM tools to manage inquiries and track sales lead interactions from the first contact to close
Effective data management to cleanse bad data and append missing data on leads
Clear metrics to measure the process of inquiries: MQLs, SQLs, opportunities, closed vs. won business, etc.
Established training for sales reps on how to engage and convert qualified leads in the CRM
Five steps to optimize lead management conversion
Next, I'm going to share five steps to you can use to optimize your lead management and convert more leads to revenue.
Step 1. Create a service level agreement (SLA) and universal lead definition (ULD) and then test it
Marketers typically have their own ways of determining lead quality, but it's shocking how many don't know the other side of the story: what do salespeople consider a qualified lead?
To create a service level agreement sales and marketing need to collaborate on the following:
Create a universal lead definition to define when leads are sales-ready (do this before you implement lead scoring)
Write your criteria for lead routing (territories, vertical focus, product interest, etc.)
Define your sales time-to-follow-up expectations (2 hours, 24 hours, 48 hours?)
Get sales management support to help keep sales team accountable
Document and test your process on how leads go through your process from the first touch to close
As a marketer, your job isn't simply to generate leads. You need to help identify which of those leads are the best prospects for the sales team to follow up on right away.
3 Good Questions to Align B2B Marketing, Sales, and Strategy
How to create a Universal Lead Definition
Step 2. Qualify leads based on a Universal Lead Definition (ULD)
Next, you need to filter and qualify leads based on your universal lead definition. Make sure you define your lead qualification and follow-up process. This is where having SDRs and insides sales reps handle this process to help you determine when a lead must be moved further down the funnel.
Also, marketing automation platforms and lead scoring help a lot.  But there is only so much that automated systems can accomplish without a human touch. That's why you need people like sales development reps (SDRs) or inside sales in place to identify qualified leads for sales readiness.
More lead qualification resources:
Lead Qualification: Stop generating leads and start generating revenue
The Biggest Contributor to B2B Revenue
Lead Qualification That Converts Leads into Sales Opportunities
Step 3. Nurture your early stage leads until they are "sales-ready"
Lead nurturing is the process of having a relevant, consistent dialog with viable potential customers, regardless of their timing to buy." With lead nurturing, you are strengthening the relationship you have with potential customers, by adding value, even if they never buy from you.
Many people think lead is nurturing as just an email workflow in their marketing automation. Instead, you need to think about it in much broader terms by reaching people in whatever channels they want to be contacted with information that is valuable, relevant and helpful to them.
When you nurture leads, it is important to offer content which is relative to their needs at any given time. Remember to nurture accounts, not just people. By providing an individual with meaningful information, you are helping that person have meaningful dialogue with others in that organization.
You need to think about what's useful to your potential customers. That's why relevant content is essential, and you can't get stuck in a "set it and forget it" campaign mentality.
For more on lead nurturing read:
Lead Nurturing: 5 Useful Tactics to Get More Opportunities
Lead Nurturing: 4 Steps to walking the buying path with your customers
7 Tips to Boost Lead Nurturing Email Results Immediately
Step 4. Optimize your lead routing process from Marketing to Sales
The handoff between marketing and sales is crucial and yet remains a common misstep in the course of moving leads through the funnel. To make the routing as smooth as possible, you need to have a documented process agreed upon by both sales and marketing.
The following process should be clearly defined and followed to ensure lead routing is on target:
1. Confirm qualified leads are sales-ready before you route them
Leads must precisely fit the ULD
People must express a desire to speak with a sales rep before routing them on
Leads must be qualified, with supporting information provided in CRM
2. Make sure you have a clear and defined lead routing process
Ensure that lead ownership is clear and agreed upon at each step i.e. "Don't drop the "
3. Monitor lead follow-up by sales and turnaround based on your service level agreement time table
Measure sales pursuit on leads (if not followed up will leads get pulled or reassigned?)
Sales management must also audit and track rep follow-up
Check out How to Improve Lead Routing to Skyrocket Sales Results
Ultimately, a clear lead routing process not only increases efficiency but also shows if your leads are helping your sales team convert, as well as measures the contribution you make to the pipeline.
Step 5. Close the loop to track and refine your approach
Effective sales and marketing organizations are ones that communicate well. Regular meetings should be held to gauge progress and success. In these "huddles," both teams can collaborate to review results, fix procedural errors and refine priorities moving forward.
These meetings will provide your team with honest, actionable feedback from sales, helping you determine:
If lead information is accurate and helpful
How well leads fit your ideal customer profile
If your leads are sales-ready (i.e., ready for sales rep involvement)
In addition, you will also track metrics like:
Leads at each portion of the sales pipeline
Salesperson responsiveness (time-to-open/edit and initial follow-up)
Territory performance (benchmark and compare performance)
Forecasted revenue and time-to-close
Lead to opportunity ratio (number of qualified leads converting to opportunities)
Lead to revenue ratio (won deals/cost-per-closed sale)
You want to answer two questions: Are your qualified leads helping your sales team sell more? And, how can you increase the probability that your qualified leads will become customers?
31 Ideas for Improving Sales and Marketing Collaboration and Alignment
6 Metrics That Will Get You an Edge and Your CEO Clarity

16 Proven Ways to Get Better Opportunities Now
Summary
I've covered five areas you can focus on to optimize and improve your lead management to increase conversion. By optimizing lead management from the perspective of customer experience, you will generate more revenue because you'll have a human-centered approach help people through their journey to become customers.
I'd love to hear from you. What did I miss? What have you found that helps improve your lead management conversion and customer experience?
You may also like
How to Attract B2B Buyers with Amazing Content
Bring more innovation to your demand generation now
Lead Generation for the Complex Sale Book