I recently had coffee to catch up with my friend Jill Konrath, and we were talking about new opportunities, ideas for the improvement of lead nurturing and I'm currently pondering my next book.
If you're not familiar with Jill, she's the best-selling author, sales guru and is a featured keynote speaker at companies like LinkedIn, HubSpot, and many others.
Both of us attended Dreamforce  (Jill was a featured speaker), and we stopped by a number of trade show booths to see the different vendors and learn what's new in their companies.
Automated lead nurturing isn't enough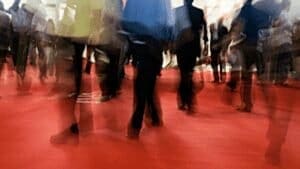 As you might guess, we both experienced lead nurturing follow-up after those visits. It was fast. They all used marketing automation to follow rapidly up with me via email.
But two things were missing: relevancy and trust.
For example, Jill was a guest speaker for one company at Dreamforce, but the marketing messages and phone calls she received after the event didn't acknowledge they knew her, or that she was a featured prominently on their corporate website.
Rather than pitch demos (that were irrelevant or unnecessary), I would have started by addressing what motivated us to stop by their booth. How could they help me right now? What might interest me in their offer?
 Don't sell – be relevantly helpful 
Today's prospects have a general lack of trust, and they simply don't want to be sold. People are wary of pitches, hype, pushy salespeople and irrelevant marketing messages. They are time constrained and too busy to think. So what do they do with most of our sales and marketing messages? They simply ignore them.
There's an incubation period that needs to happen before sales professionals can even think about taking the relationship to the next level. You don't ask someone to get married on the first date – the link you're looking to start with customers gets built over time with trust.
[clickToTweet tweet="You don't ask someone to get married on the first date – trust gets built over time " quote="You don't ask someone to get married on the first date – trust gets built over time "]
You can't automate trust 
Marketing automation can help you manage lead follow-up and lead nurturing, but you can't automate trust.
Building that trust takes time.
Trust gets earned by being helpful, relevant and honest with your prospects. Relevance is the foundation of lead nurturing, which is, at its core, a series of conversations.
Like real-time conversations, we can't bore the recipients of our emails by talking about ourselves all the time – we have to discuss what they care about:
If all we do is focus on winning the sale, they're going to tune out or opt out.
If we focus on how we can help them, we're going to build trust, and when they trust you, they'll stick around and likely buy whatever it is you're selling.
My research shows that executive buyers choose the salesperson who has been a resource and developed a trusted relationship with them regardless of their timing to buy. These people are called trusted advisors.
The foundation of nurturing is relevance, which is knowledge of your potential customer and their world:
Know the likely problems they're facing.
Know what makes their lives easier or harder.
Know how your value proposition helps them.
For this reason, I think it's critical to contact and have initial conversations with future customers that are devoid of sales pitches. When we begin a conversation with those prospects, their attitudes and beliefs are being shaped and primed by the information they have already soaked up through various sources.
I think a perfect way to do this is through lead nurturing. A key aspect of lead nurturing is the ability to provide relevant, valuable content and information to prospects.
 Build trust with lead nurturing
Look up the definition of "nurture."
Here's what a quick search of the Web will tell you: foster, help develop or help grow; the act of nourishing or nursing; tender care; education; training; that which nourishes; food; diet; sustenance; the environmental influences that contribute to the development of an individual.
Lead nurturing is all about having a consistent and meaningful dialog with viable prospects regardless of their timing to buy. It's about building trusted relationships with the right people.
In the end, it's the act of maintaining mindshare and building stable relationships with economic buyers. It's not about having a salesperson calling up every few months to find out if a prospect is ready to buy yet.
 You might also like
Marketing Research Chart: Messaging tactics for effective lead nurturing [MarketingSherpa chart]
Email Marketing: The importance of lead nurturing in the complex B2B sale [More from the blogs]
Lead Nurturing: 5 tips for creating relevant content [More from the blogs]
B2B How-To: 5 lead nurturing tactics to get from lead gen to sales-qualified [MarketingSherpa how-to]
Lead Nurturing: Why good call scripts are built on storytelling