Imagine your marketplace is like a field of banana trees. Your marketing people are those who nurture and pick the bananas. Bananas are harvested when they are green, and they turn yellow as they ripen. Check out Chris Coleman's book, "The Green Banana Papers."
Over 20 years of lead generation experience for 60 clients with a complex sale has shown me that fully 95% of your leads are like harvested green bananas, and, off the top, your sales team needs only the other 5%, those that are ripe. I'm going to show you how to ripen all those green bananas.
What is lead nurturing and why is essential to demand generation?
Good, sound, effective demand generation is still the highest priority for most B2B marketers.  It has also been pointed out, however, that up to 80% of marketing expenditures on lead generation and collateral go to waste for lack of commitment and discipline, ending up in the scrap heap because the sales department doesn't know what to do with them.
The secret to successful lead generation, and in turn marketing, in the B2B marketing is lead nurturing.  This process, that converts more inquiries into qualified leads and qualified leads into sales, is called lead nurturing.
Lead nurturing is all about having a consistent and meaningful dialog with viable prospects regardless of their timing to buy.  It's about building trusted relationships with the right people.  In the end, it's the act of maintaining mindshare and building solid relationships with economic buyers.  It's not a salesperson calling up every few months to find out if a prospect is "ready to buy yet."
Customers know "How you sell me is how you will serve me."
Most economic buyers subscribe to the notion that how you sell me indicates how you will serve me.  A recent study of business-to-business buyers shows that sales people who become trusted advisors and understand the needs of economic buyers are 69% more likely to come away with a sale.  The complex sale requires that:
Your prospect must be familiar with you and your company and with what you and your company do.
Your prospect must perceive you and your company to be an expert in your field.
Your prospect must believe that you and your company understand his or her specific issues and can solve them.
Your prospect likes you and your company enough to want to work with you.
Trust, therefore, becomes the theme for a new type of marketing.
Lead nurturing about inspiring trust
A key aspect of lead nurturing is to build trust by sharing valuable education and information to prospects up front. You are then perceived to be an expert.  You don't sell, you don't make pitches.  Instead, you provide insights and solutions, all within the realm of your expertise and thus become the first they call when there's a need.
When your marketing program has that single point of focus of developing trust, your time is freed up for other things; your business will become more profitable and less reliant on competing on price; selling per se is reduced in the interest of more open and honest conversations with prospects; you win more business on a sole-source basis, and more new business referrals come your way.  Above all, you feel good about what you have to offer.
Nurturing ROI and metrics
Despite the fact that more and more companies recognize the need for and actively seek better lead generation, a ton of leads doesn't guarantee increased sales.  In the complex sale that dominates business-to-business marketing, the actual selling occurs when the salesperson isn't even present.
Startling as it may seem, research shows that longer-term leads (future opportunities), often ignored by salespeople, represent 77% of potential sales.
Most inquirers don't buy right away but they do buy.  Sales lead expert, Mac McIntosh, notes an in-depth study for Cahners Business Information of 40,000 inquiries generated by ads and press releases in magazines serving the manufacturing marketplace found that six months after inquiring, 23% of the subjects had bought the product or service, from the promoter or from a competitor.  An additional 67% indicated that they still intended to buy.
It was further revealed that of those from earlier inquiries who bought, 11% purchased within three months of inquiring, 17% purchased within four to six months and 25% purchased within seven to 12 months.  And 47% bought in a year or more.
McIntosh states, "despite the high number expressed interests that eventually convert to sales, many salespeople believe that advertising inquiries are not worth following up. Why?  Probably because a majority are likely from longer-term prospects, and salespeople generally need more immediate sales in order to meet monthly or quarterly quotas and earn commissions."
If inquiries are simply passed on to salespeople, reps, dealers or distributors for follow-up, beware.  You may be leaving as many as eight out of ten sales prospects on the table for your competitors.
Walking in the shoes of your customer with empathy
Consider what goes through a potential customer's mind as he or she makes a buying decision:
– How will this product or service help my company?
– We're doing okay so why do we need it?
– Is there another resource out there that's better?
– Will this solution really work?  Can that be proved?
– Is the resource credible?
– Can we afford this?
Lead nurturing makes for easier answers to these questions and,. Of course, you're the source to come to.  Over time, you have instilled the sense of value from the trust built by bite-sized chunks.
How does it work?
Typically, a lead nurturing program includes meaningful letters, emails, voicemails, case studies, success stories, articles, events, white papers, and webcasts.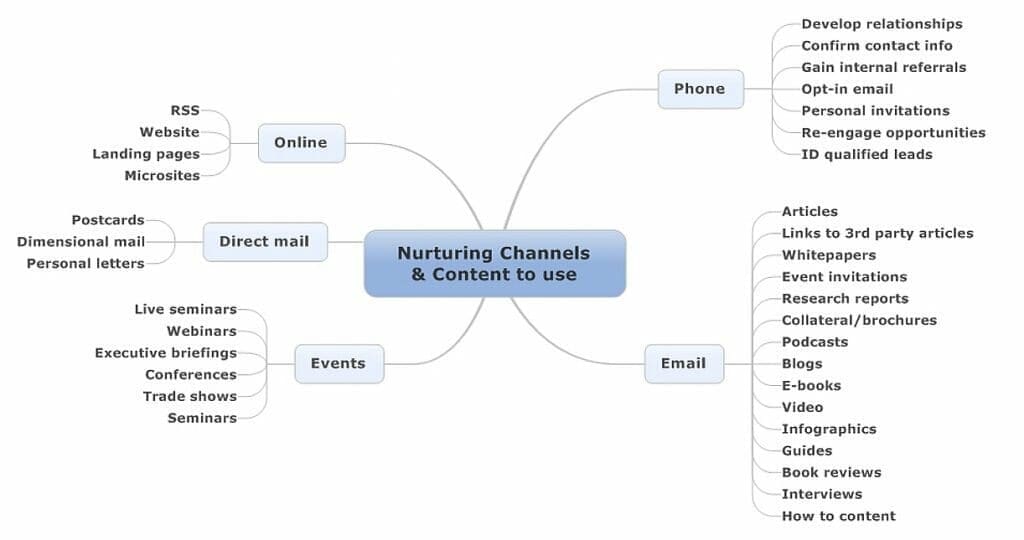 These may be:
Lead nurturing contests
Third-party articles
By-line articles
Case studies
Whitepapers
Research reports
Events
Webinars
Trade shows
Live seminars
Executive briefings
Workshops
Conferences
Speaking engagements
Collateral materials
Website content
Weblogs
Personal letter templates
Email templates
Method and frequency of a lead nurturing program will depend on the solution being sold and the buying cycle.  Long lead-times generally require spacing out the campaign for a longer duration.  Rule of thumb:  Salespeople should be brought in about six months before the targeted purchase time.  Also relevant is what's being sold and how the particular market might get its information… by phone, for instance, or direct mail, events or email, vis-à-vis:
An effective plan might be:
-Day 1     Introductory phone call and follow-up email.
-Day 28   E-newsletter with voicemail alert that it's there.
-Day 42   Email recent customer success story, in the related industry if possible.
-Day 60   Personal invitation from sales person to the forthcoming seminar.
-Day 80   Mail case study and personalized letter of transmittal.
-Day 100 Email recent article of interest on the Internet.
-Day 120 Email "touching base" note.
-Day 140 Mail follow-up letter with a free report.
-Day 160 Prospect calls you: now a qualified lead!
The Harvest.
Lead nurturing programs completed for our clients have yielded anywhere from 15% to 200% in additional, new qualified leads   Close ratios are higher.  Sales pipelines open up and are stronger.  Average sales cycles are shorter.  One company determined that its nurtured prospects bought from 100% to 250% more than those that were not nurtured.  The nurtured prospects cited greater overall positive impression of the company.  Another company saw client retention improve by 50% from lead nurturing program.
So, how are your sales leads like bananas?  Well, they are rated by quality, they start from seed, they are consumable, there's a wide variety.  And they are perishable.
You may also like:
How to do lead management that improves conversion
Lead Nurturing: You can't automate trust
5 Ways to Immediately Boost Account Based Marketing (ABM)
How Customer-Hero Stories Help You Connect Better
Growing B2B Sales with Trust and Empathy