To drive growth, the mandate for sales organizations is to make more calls, send more cold emails.
Sales reps are hustling and using automated tools to move faster.
But sales hustle and automation have a downside: they can hurt the customer experience.
Here's what I mean:
B2B companies are now hiring more people to do this. They're hiring less-experienced sales development reps (SDRs) to do these things.
The goal? More emails. More calls. More activity to more accounts.
In this interview, Dave Brock, author of the Sales Manager Survival Guide, states:
"As a result, we're creating terrible first impressions. If somebody calls me and they can't have a powerful, engaging first conversation, I'm going to have a negative opinion both of that individual and of their company."
For more on this: Read getting sales enablement right to increase results
Sales hustle, lead generation, and customer experience
If you're a B2B buyer, you're probably receiving tons of generic, irrelevant cold emails.
Why? Because sales hustle is now automated.
There's been an explosion in the Sales Tech landscape just like the growth of martech.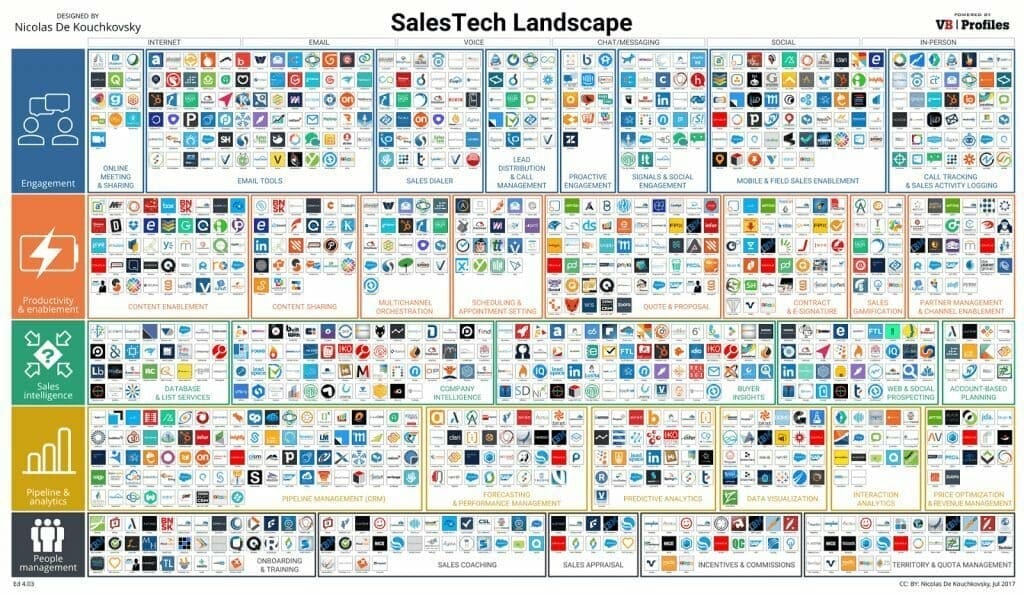 Buyers are getting a whole series of emails because there are automated tools that will set up the cadence in a series. Reps don't need to send them follow-up emails anymore. Hustle gets automated.
By the third email, you may get something like "Have you bothered you?", "Are you ignoring me?" or a "is rhino chasing you?"
It's out of hand.
What's the bottom line?
All of this sales hustle and automation is hurting customer experience.
Here's why:
You can't automate trust
For example, I recently registered for a demo account for CRM software.
Five minutes later I got a call from the company. Didn't answer. Wanted to try the demo first.
I got another call five minutes later.
Checked caller ID. Same number?!
Wow, that's crazy I thought. Is this company that eager to talk to me?
I was just logging in.
Email alert.
I got an email from the sales rep.
He said, "I just tried calling… Saw you just signed up for a demo." And he wanted to set up a time to talk about "my needs."
This all happened in under fifteen minutes.
Frustrating.
Was it responsive? Yes.  Did it help and give me a good experience? No.
Read Carlos Hidalgo's post about why b2b marketers need to think about demand generation in a customer experience context.
Hildalgo writes, "If marketers make the mistake of thinking about demand generation in isolation, this could lead to poor customer experience."
Don't pounce (or interrupt and hover)
It's like walking into a retail store. Being greeted by the sales rep. Say I'm just browsing. Then I want to pick something up. They hover. They interrupt. They pounce.
And you leave.
Chatbots could be great, but they're set up by default on the homepage. So everyone gets the same blanket message.
And brands come across as overly eager or annoying. Just like pushy salespeople in a retail store.
Change your cold emails
Here's another example of sales hustle that happens to me multiple times a week.
I get a cold email from a sales rep. I don't reply.
Then I get a second email asking if I saw the first one. Or it asks why I didn't reply.
Finally, I get the third email. Perhaps a little shaming, "I've tried emailing you."
One recent email asked if I'm "being chased by a hippo." Really?

The emails are sent in an automated sequence. They're scaled. Now think about the customer experience.
What does it feel like to customers?
Read Cara Wood's post at Nutshell on the 5 worst cold emails they've ever seen.
Blowback against hustle
Let me be clear: I'm not saying hustle is terrible. But hustle needs to be connected to the customer experience.
If you don't put the customer experience first, you'll see reduced results and won't build trust.
Why? Because customers can smell hustle and automated cold emails a mile away. We all can.
So the question is: Are you or your reps doing this? How many times a day? Think about it.
I really like this post, The Blowback Against "Hustle" by SteveWoods, CTO at Nudge.
According to Woods:
First, if all we are looking to do is "hustle" and send increased volumes of undifferentiated, formulaic content to our buyers, AI will be better than humans at that task.

Second, the more we do this, the more the AI that differentiates spam from real content will immediately eliminate it.
Try this instead
We need to humanize our approach. And focus on building trust with remarkable interactions.
Try this.
Go through your sales (and marketing) experience as a customer. Walk in your customer's shoes and do the following:
Get emails from your salespeople
Fill out your own website forms and experience your automated funnels (calls, welcome, nurturing emails, etc.)
Listen to your sales voicemails/cold calls by SDRs and sales reps
Recieve your sales/marketing emails
Sign up for your individual nurturing sequences
Do it all from your customers perspective. What I'm saying is pretend you're the customer by using your applied empathy.
It's eye-opening to see things from your customer's experience. It changes everything.
Summary
Go through your sales experience as a potential customer.  Evaluate the experience through the lens of a customer (just like secret shoppers do in retail.) I know this isn't always easy. It may even be humbling. But if you do this and focus on how you can build a better experience to start relationships, it will be worth it.
In sum, use your applied empathy. And Then fix the gap.
You may also like:
Stuck on words: how can marketing connect with customers better?
How customer-hero stories help you connect better
7 Tips to Boost Lead Nurturing Email Results Immediately
Lead Nurturing: 4 Steps to walking the buying path with your customers