More often than not, there seems to be a disconnect between Marketing and Sales. Not having these two teams aligned can be a vital — and costly — mistake.
How does your sales team perceive your marketing qualified leads? Be honest.
They love them — couldn't be happier!
They complain about lead quality.
They complain about the lead volume.
The say leads, what leads? Marketing gives us leads?
If you chose answer No. 1, the first thing I would say is, well done.
The second thing I would ask is, when was the last time you talked with your sales team?
Making sales and marketing one team
Demand generation is an iterative process that requires consistent closed-loop feedback. Closing the loop on a regular basis allows you to constantly learn from each interaction.
Sales and Marketing often believe they are working together, but I've found collaboration takes more than annual, quarterly or monthly meetings.
That's why I think we can learn a lot from the football team huddle.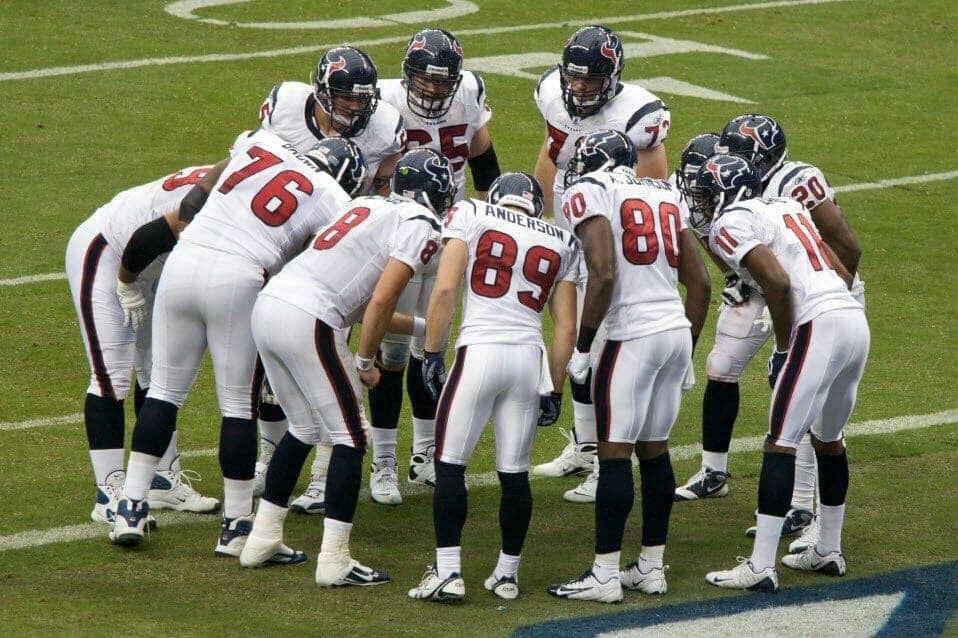 Each huddle allows the team to adjust, get feedback and focus on their next play together.
This is about being agile and responsive.
If you don't do this already, this could be one of the single most important things add and do all year. I mean it.
Have short huddles daily and weekly between the marketing and sales team members.
31 tips to improve sales and marketing alignment today
Here are 31 ideas you can use to improve alignment and collaboration:
Train your salespeople on how to optimize lead follow-up on marketing qualified leads (MQLs).
Regularly get the marketing team out into the field with the sales team or channel.
Centralize the lead qualification process.
Get closed loop feedback from the sales team on leads, and carefully examine the conversion process with regular face-to-face meetings or conference calls.
Understand where the sales team is with their priorities, and help them nurture. Do not force-feed leads at a time when their focus might be on closing important sales efforts.
Develop a strategic demand generation plan and process of tracking and measuring results.
Conduct frequent, regular meetings to stay updated on developments.
Share best-practice lead development and lead nurturing approaches.
Assign team revenue goals to joint Sales and Marketing plans.
Document the lead routing process and accountabilities at each stage.
Be flexible and adopt an agile approach to account-based marketing.
Promote lead generation from the top down and the bottom up.
Develop a universal lead definition.
Arrange compensation to reflect shared accountability via lead generation.
Close the loop on each sales-accepted lead (SAL)
Focus on how to increase the effective selling time of the sales team.
Integrate Sales and Marketing into the same database from MQL to SALs and pipeline.
Define and map responsibilities shared by Sales and Marketing.
Share nurturing content. Learn what content is most helpful to progress customers.
Continually reinforce lead generation program strategies.
Share new insights gained from customer feedback.
Jointly develop a message map and value proposition.
Examine and apply what has been learned.
Implement parameters from successful campaigns.
React to and develop solutions for the prospect's concerns. Better yet, talk to future customers along with your sales team.
Conform messaging to target audiences.
Analyze and use competitive strategies as warranted.
Improve sales enablement, sales development, and marketing materials.
Map out your customers' buying process and key questions customers ask at each step.
Determine the life cycle of a lead and journey map.
Develop a strategy for nurturing strategic accounts.
You might also like
How to Do Lead Management That Improves Conversion
B2B Marketing: The first step a systems integrator took to achieve Sales-Marketing alignment
How ECI Telecom Discovered the Surefire Sign that Sales and Marketing Are Aligned
Sales-Marketing Alignment: How consistent messaging helped ADP engage customers at a faster pace
How to Improve Lead Routing to Skyrocket Sales Results
Why Not To Focus On Marketing & Sales Alignment In 2019