I recently was called by the CEO of a small technology company who was wondering how to optimize his lead generation team's cold calling efforts.
He called me after two salespeople just quit, and he said, "I'm about to give up on cold calling and start doing inbound marketing. I think cold calling is dead … what do you think I should do?"
I thought to myself, "It's no wonder his sales team quit."
There's an adage that says 90% of salespeople hate cold calling, and the other 10% are lying. No one really likes the idea of making or receiving cold calls.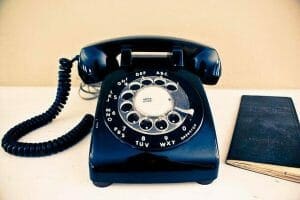 If you're randomly calling, emailing or direct mailing your customers and think it's just a numbers game, then you need to stop. This type of interruption marketing no longer works.
He then asked, "What can I do instead?"
I gave him the following advice: Stop cold calling and start nurturing.
Cold calls vs. nurturing calls
Look up the definition of "nurture."
Here's what a quick search of the Web will tell you:
Nurture: To foster, help develop or help grow; the act of nourishing or nursing; tender care; education; training; that which nourishes; food; diet; sustenance; the environmental influences that contribute to the development of an individual
Your lead-nurturing program is all about having consistent and relevant communication with viable prospects (those that fit with your product or service), regardless of their timing to buy. Think of your phone as an extension of this program. You shouldn't try to use pressure tactics in the first phone call; it's about building long, meaningful and trust-filled relationships with the right people.
Be useful and help your prospects
Think about it: when's the last time you received a cold call that you benefited from? Your customers feel the same way. Every time you pick up the phone — whether it be the first call or the 50th call — it's important to create value by providing your prospects useful information in digestible, bite-size chunks.
John Jantsch writes in this post on Ductape Marketing Blog, "You don't have to be a pest when you call people. In fact, don't sell. Just be useful. Even useful voice message follow-ups will let people know you are human and aren't going to hard-sell anything. Reaching out via the telephone in a meaningful manner will help build trust for your other lead generation initiatives."
Be relevant and uber-informed
When you're making a call, the worst thing you can do is to contact someone without knowing anything about them. You must have a sound, working knowledge of each potential customer, the company and, most importantly, the issues they face and how your product can help solve them.
This personal interest goes a long way in establishing a meaningful dialogue.
Begin by asking your sales team:
What questions do your customers ask most often?
What matters to them?
What issues are they facing?
Find content — such as articles, blogs, and white papers — that addresses these issues. Pass this content by your sales team, and ask them whether their customers would value it. As much as you can, repurpose content. For instance, white papers can be transformed into articles and articles into blog posts.
Marketing automation technology can also help you know what content people are engaging with on your website, emails, and webinars, and you can leverage this information through lead scoring to help you prioritize when someone might be ready for a call.
Build trust with each interaction
"Tell-and-sell" is a thing of the past. Become a trusted advisor by adding value with each interaction and sharing relevant information.
By providing valuable education and information to prospects up front, you become a trusted advisor. Share information that sticks with them. Give them educational content that helps them grow as an individual or a company. Salespeople who become trusted advisors and understand the needs of economic buyers are 69% more likely to come away with a sale.
Here's a nurturing litmus test: Can prospects benefit from the information you provide, regardless of whether they buy from you?
The goal of lead nurturing is to maintain a relevant and consistent dialog with viable future customers, no matter where they are in the buying pipeline. It's about relationships. If you follow these ideas, you'll start thinking about how you and your salespeople can be a relevant resource. When you do that, you don't have to sell to people. They will come to you first when they are ready.
Photo attribution: Poetic Home
You might also like
Lead Nurturing: Build trust, win more deals by helping prospects – not selling them [More from the blogs]
Creating Customer-centric Messaging for Optimal Lead Generation [MarketingSherpa webinar archive]
Customer-centric Marketing: 7 triggers to engage customers and build loyalty [More from the blogs]
Competitive Marketing: How do you grab customers' attention?[More from the blogs]
Empathy, Web & People: Improving The B2B Customer Experience