I was asked by a reader to provide some examples of what lead nurturing touches may look like.
Lead nurturing is something that's relatively easy to understand, but for many, it's become a frustrating thing to consistently execute for two reasons:
Lack of content
No plan for consistency
I've found that many marketers get stuck on not having enough good and effective lead nurturing content. My advice is to start accumulating and building your lead nurturing library now.
How to build a lead nurturing content library
A lead nurturing program can leverage existing investments that you have made in other marketing efforts such as trade shows, webinars, direct mail, PR and other marketing collateral by repurposing the existing content. Third-party resources and content can also be effectively utilized to bring you an aspect of credibility through the halo effect.
Begin by developing a catalog (think: library) of all of your lead nurturing content. Unfortunately, if you have a lot of content this can be a tedious process, but trust me, it's worth it.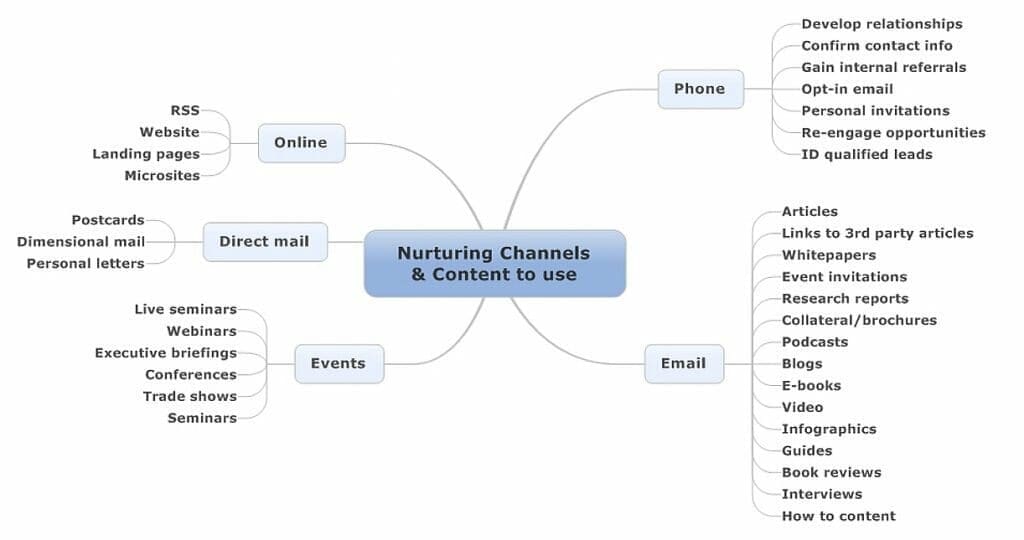 Here are some examples of lead nurturing content ideas:
What can you send via direct mail?
Direct mail examples: personal letters, dimensional mailers, books, postcards, newsletters, press releases, white papers, event invitations, research reports, case studies, success stories, and third-party articles
What can you send via email?
Email examples: links to bylined articles, blog posts, links to third-party articles, case studies, press releases, white papers, e-newsletters, event invitations, archived event links, research reports, blogs, success stories, video, podcasts, third-party articles, and website content
Leverage your events
Event examples: trade shows, live seminars, webinars, webcasts, executive briefings, workshops, conferences, road shows, speaking engagements, and on-demand events
Use your online channels
Online examples include blog posts, podcasts, videocasts, videos, webinars, e-books, personalized microsites, wikis, and other multimedia. Be sure to give your audience a way to subscribe to get updates either via RSS or email.
Leverage the human touch and phone
Phone examples include: share new ideas, develop relationships, confirm correct contacts, get internal referrals, get opt-in email addresses, personal invitations to events, reengage aged opportunities and identify sales-ready leads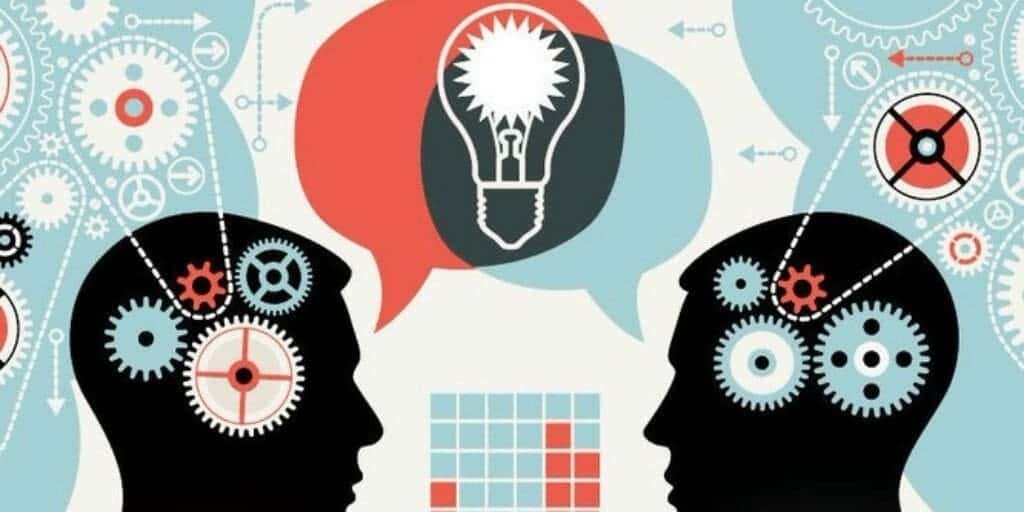 Here are more lead nurturing content ideas:
Articles and media mentions — Email bylined articles written by you or about your company or snail mail reprints written by you on relevant topics to your future customers
Third-party articles — Email or mail links to items of interest (that tie into your value proposition) to your prospective customers
Blog posts — Email links to recent posts you wrote or were written by others that will be relevant to your readers
Podcasts — Email links to recent podcasts you've done or have been done by others that will be relevant and interest your audience
Books — If you found a book that's relevant to the audience, you can send copies or executive book summaries. One marketing consultant purchased bulk copies of my book (and shipped them to me to autograph; I happily obliged) and mailed an autographed book to each of his clients and top prospects. They loved it, and he got more business.
Handwritten notes or letters — When was the last time you received a handwritten note? Personal messages in your handwriting show you made an effort and value them. People appreciate the effort that benefits them.
Emails — Email is a one-to-one medium. Keep your emails brief, relevant, helpful, informational, but not promotional.
Events — Invite your audience to trade shows, live seminars, webinars, webcasts, executive briefings, workshops, conferences, road shows, speaking engagements, and on-demand events.
Newsletters — Print or email, or both, with articles that address customer challenges
Press releases — Will they value it? Maybe; just make sure the content (the news) is relevant to your readers.
Guides or e-books
Glossaries of industry terms, directories, and how-to guides
Research reports — Presenting findings from your research or that have been conducted by third parties. You can break out charts and graphs and repurpose them into other channels, like blog posts.
Special reports — Think industry trends, what's hot and buying guides.
Webcasts and podcasts — Send a link in emails.
White papers — Discuss industry trends and challenges, and solutions.
Develop a lead nurturing calendar — Map out your activities for each month, and then really follow it. Don't just make irrelevant pitches more often. Create a plan to add value every time you touch your future customers with relevant ideas, content and resources.

Example lead nurturing track you can use
The tactics employed and the frequency of touches will depend on the solutions being sold and the buying cycle of the prospect. Possible timelines might look like this example lead nurturing track:
Month 1 — First contact phone call and "thank you" email
Month 1 — Third-party article on related interests via email
Month 2 — Industry relevant case study via email with a voicemail
Month 3 — E-newsletter with voicemail alert to check
Month 4 — Third party article on pertinent technology via email
Month 5 — Relevant white paper via email
Month 6 — Targeted campaign via direct mail
Month 7 — Relevant e-book via email with a follow-up call
Month 8 — Link to a relevant podcast via email with a follow-up call
Month 9 — Free report via direct mail with a follow-up call
Month 10 — Invitation to webcast via email with a follow-up call
Month 11 — Call to invite to an industry trade show and discount
Month 12 — Prospect calls you and becomes a sales-ready lead
The above example is pretty simple. It's a single track process rather than a multi-track process.
The impact of lead nurturing
I have a client that started lead nurturing two years ago. They now have 18 different lead nurturing tracks with 27 steps based on industry, job function, and role in the buying process.
This client told me, "Lead nurturing has given our sales force more sales leads than they can handle. It's gotten to the point where we have to completely reorganize our sales department to accommodate the leads that are coming in. We have 90 percent more sales-ready leads now than we did a year ago."
It should note that this client reallocated 20% of their marketing budget to lead nurturing activities. They kept the rest of their budget intact but almost doubled their leads.
Stay tuned, I'll be writing more about lead nurturing in future posts.
You might also like
Email Marketing: The importance of lead nurturing in the complex B2B sale [More from the blogs]
Marketing Research Chart: The ROI of lead nurturing [MarketingSherpa chart]
B2B How-To: 5 lead nurturing tactics to get from lead gen to sales-qualified [MarketingSherpa how-to article]
Lead Nurturing: 5 Useful Tactics to Get More Opportunities
7 Tips to Boost Lead Nurturing Email Results Immediately