Brickstream, a retail technology company, was too late to rent a booth at the year's most important industry event where it had to have a strong presence. But, the team turned this marketing nightmare into a marketer's dream come true.
Here's what happened
Brickstream's products – behavior intelligence-gathering technology that helps retailers measure shoppers movement through their stores – were well known in the marketplace, but its brand wasn't. Since the company first offered a behavior-data capture device seven years ago, it sold its devices through worldwide channel distribution with little branding. The product is a staple in the marketplace and is selling very successfully without it.
But, when Brickstream decided to sell a new queue management software product directly, it realized it was time to refresh the brand. The best opportunity to kick off that effort was at the NRF Big Show. This conference, sponsored by the National Retail Federation, is the largest technology event for retailers. Unfortunately, it was less than three months away, and there was absolutely no hope of renting a booth space – they were sold out long before, and the waiting list was long.
Here's how Brickstream responded
Brickstream enlisted the help of Arketi Group, a B2B marketing and public relations firm, to help create the impact it needed – booth or not. Together, they developed a stand-out identity which included:
1. Branding the devices as SeeMore 3D and SeeMore 2D and the new software as QueueIQ
This is the first time its devices had an actual name. To make the branding memorable, they created a personality around the brand which included:
A mascot, Seymour, whose:

Face looks like one of Brickstream's two-lens cameras
Name is a play on the device name and idea that the cameras help you "see more"

A facelift for the corporate website www.brickstream.com and the corporate brand including the identity system and collateral suite
A playful, but focused, blog  www.hate2wait.com dedicated to the QueueIQ application that helps retailers manage customer wait times
A Facebook page for Seymour
A Twitter identity for Seymour, @SeymourKnowMore
A LinkedIn profile for Seymour
It combined these elements to promote the new brand at the trade show. This included:
An actor in a Seymour mascot costume who worked the event by handing people who were standing in lines "Hate2Wait" buttons. These buttons directed them to the blog site where a running clock showed how much time is wasted by waiting.
Raising funds for victims of Hurricane Sandy by encouraging participants to be "Seen with Seymour" and post their photo with Seymour on the Facebook page or Twitter feed. The effort raised more than $1,200 for the Red Cross relief efforts.
Taking videos of Seymour interacting with attendees and posting them online.
2. Creating walking billboards

Brickstream created mobile booths by:
Decking the sales professionals out in orange-and-white-checked golf pants, and
Arming them with iPads, where they could access a short presentation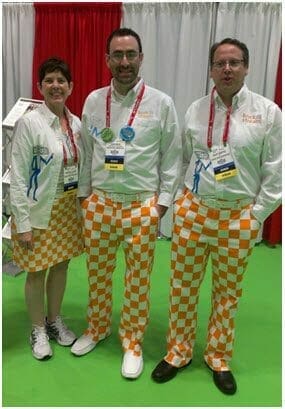 The pants were instant conversation-starters. If that conversation produced a prospect, the sales professional could show him a brief slide presentation and capture his information on the iPad.
Christina Ellwood, Vice President of Marketing, Brickstream, admitted the sales team was not eager to wear such outrageous pants.
"When the CEO put the pants on and showed them off around the office, that sealed the deal," she laughed.
The pants attracted so much attention that at the end of the show, Ellwood was approached by show attendees who asked to purchase them from her.
3. Securing sponsorships
Even though most of the top sponsorships were snapped up months before, Brickstream scored great awareness by sponsoring a 5 foot by 30 foot floor tile at the event's entrance.
"It was huge, bright green and directly in front of the registration area, so you couldn't miss it when you entered the show," Ellwood said.
They also:
Sponsored a reception and an interactive map
Placed their logo and website link on the event's webpage
4. Making the most of partner relationships
One partner had the space to share a booth with Brickstream and allowed the team to display some booth graphics. Arketi Group developed integrated graphics that communicated the new brand.
"It looked fantastic," Ellwood said. "You wouldn't know that it was two companies using the same space. Each area was nicely delineated while still conveying a unified look and feel. The partners loved it."
Brickstream created an identity program for the other partners who placed signs at its booth which proclaimed "Powered by Brickstream."
5. Following up
The fun didn't end at the trade show. Brickstream sent attendees a direct mailer with a magazine called The Wait Times featuring Seymour throughout, encouraging the reader to help reduce their customer's wait times. It was sent in a thin tin box and included:
3D glasses to view a 3D advertisement featuring the Brickstream SeeMore 3D smart device.
Articles on how queues affect customers and the retailer's business, and how retailers can manage them
This booth-free approach to trade show promotion produced more than 30 highly qualified direct leads and 200 prospects for Brickstream in addition to a spike in leads for its partners.
Ellwood is delighted with the results and plans to use this approach at future trade shows.
"We generated awareness you just couldn't pay for," she said. "As a young technology company, you have to spend your money very carefully and get more bang for your buck. Together with Arketi, I think we did a very good job of making sure every tactic we used at this trade show made an impact. We really stood out and made a memorable impression."
Related Resources:
Trade Show Marketing: Tips for increasing prospect engagement
How Technology on the Trade Show Floor Can Help Your Sales Team Work Smarter and Sell More
Trade Show Follow-Up: 5 tips to optimize response
Nine Simple Tactics to Drive a Higher Return on Trade Show Investment
How to Use Lead Scoring to Drive the Highest Return on Your Trade-Show Investment