Five years ago, Dell had little presence on social media. That changed when the computer company realized 4,000 conversations about the brand were happening online every day, and the company was not present.
Since then, Dell has invested millions of dollars worth of time and resources in joining those conversations. In fact, one in 12 of Dell's more than 105,000 employees has attended its Social Media & Community University, which encompasses up to 12 hours of training on representing Dell's best online.
In addition, Social Outreach Services, a team representing 14 languages, actively monitors and participates in social media.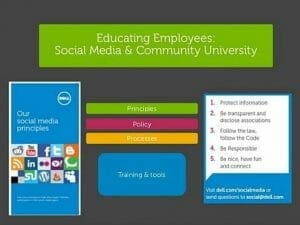 A lot has changed since 2006, and these changes have paid off handsomely for Dell – especially for its B2B business, says Richard Margetic, Director of Global Social Media, Dell.
"Social media has made more of an impact, significantly on B2B than B2C," he said.
"For us, B2B is about relationships, and social media is all about relationships," he added.
B2B Social drives revenue.
While Margetic cannot share specific numbers, he says B2B social media initiatives drive "a significant chunk of their B2B business."
Here's where he can provide specifics:
Every week, Dell's Social Outreach Services team addresses approximately 3,000 issues. All but 3% of those issues come to some resolution, and 40 to 50% – about 1,200 – of the people who initiated them end up speaking positively about Dell online.
How to connect with brand detractors
Conceivably, by participating in social media, Dell transforms approximately 62,000 brand detractors into fans every year.
Margetic said your business could achieve similar results – start paying attention to what is being said online about your business and industry.  By doing so, in addition to having a chance to recruit some brand converts, you'll acquire what you need to develop a core marketing strategy:
You'll identify who is talking about you – the influencers.
You'll find out what they're talking about and how they're saying it. This will give you the keywords, messaging points, and pain points from which you can build marketing materials.
You'll find out what social media platforms they're using and, consequently, identify where to focus your marketing budget.
Free tools to listen to social media conversations
Here are the free tools Margetic advised using immediately to hear the social media conversations impacting your business:
Google Alerts: Whenever your company or your industry is mentioned online, Google will notify you. You can have these delivered daily, weekly, or as they happen.
Twitter search: Type in your company name, keywords, or industry to find out what people are saying in real-time.
"You'll quickly get insight into who your marketplace influencers are," Margetic explained.
LinkedIn: Type your business name, industry, or keyword into the search box to identify where you are being mentioned on LinkedIn. You can look at your first- and second-level connections and beyond to hear what they have to say about any topic you want and filter conversations by geography, company size, industry, and more.
"This is a phenomenal tool, especially when you consider that more than 85% of the visits to LinkedIn have nothing to do with job hunting. Instead, people are sharing information and driving relationships," Margetic said.
Pinterest: Find out if your content is being repinned by going to "http://pinterest.com/source/your company's URL."
For example, http://pinterest.com/source/marketingsherpa.com.
Investing in social media tools
You can invest in a social media monitoring tool, as well. Dell has designed its own platform to monitor conversations, but Margetic noted plenty of other solutions for businesses that want to do more than manually search social media sites. These platforms allow you to manage and search multiple sites simultaneously and see results in real-time.
Monitoring social for demand generation
Margetic believed monitoring social media should be considered a key lead generation activity.
"It's just fundamentally sound business practice," he insisted. "Paying attention to what is being said [about you and your industry] online will tell you which people are talking, what they're saying, and where they're saying it, which will help focus your lead-generation efforts.
"If you're not involved in these conversations, you need to reconsider your priorities," Margetic concluded.
Related Resources:
Becoming a Social Business – Dell SlideShare
Social Media Marketing: 6 tips for running a valuable LinkedIn group that attracts prospects
B2B Social Media Marketing: Focus on leads, not likes
How IntraLinks Used Social Media to Generate Twice as Many Sales-ready Leads as Any Other Channel