If you're looking for a consistent way to build a list of highly qualified leads – then you might want to pay closer attention to what Bonnie Thomas, Director of Content Strategy, Lithium Technologies, is doing.
Thomas is growing her database month over month – with minimal investment of resources – after discovering how her marketplace loves to learn through webinars.
"In today's highly digitized world, people have an appetite for connection as opposed to just printing out a piece of paper," she explained. "They like to get their information from a personality that inspires."
Two and a half years ago, she started hosting webinars when she became Director of Content Strategy at Lithium Technologies, Inc., a social software company. Back then, she hosted about once every four months or so.
"In the early days, it seemed like a lot of work, and I had a lot of anxiety about each one going properly," she admitted.
But, regardless of that anxiety and effort, every webcast attracted more attendees than the one prior.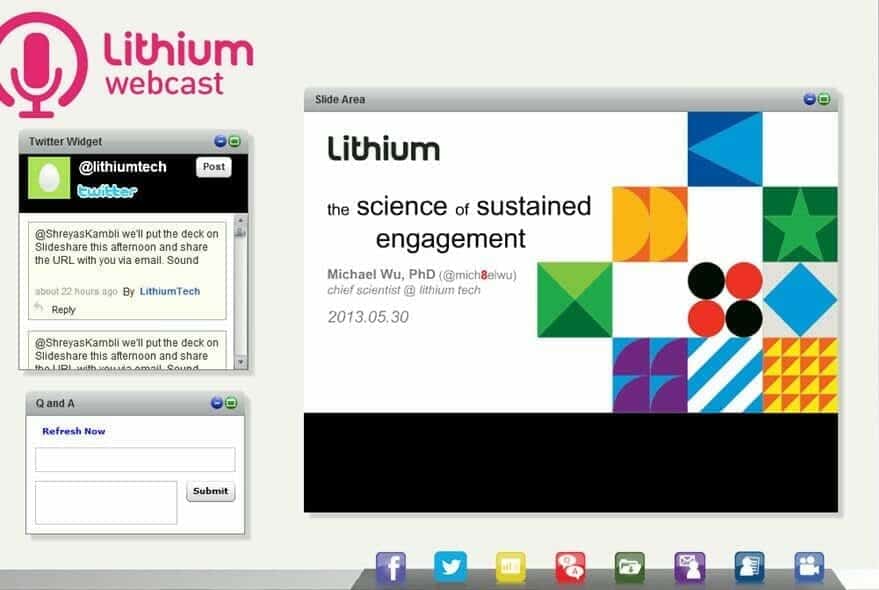 So, she gradually increased frequency. Now Thomas hosts one webcast a month while the Lithium product-marketing team hosts another two or so per month.
Thomas' webcasts are more awareness-focused, delivering new thought leadership or best practices, and are strong demand generators. Significant percentages of the 1,000-plus people who attend are new leads.
Furthermore, Thomas said her webcasts "are very cost-effective," given:
Putting together webinars has become easier for Thomas' team, so the time investment is now minimal
Webinar platforms have become inexpensive and allow for easy production management, from setting up registration pages to interfacing with the audience to reviewing attendance metrics
And then, there are the benefits that go beyond list-building …
Webcasts enhance Lithium's content library since broadcasts are available on-demand immediately after the event and are used in lead nurturing efforts.
Sales professionals use these events to gauge the interests of their leads.
"Being able to say 'We're having a webcast in a couple of weeks' is a great excuse for outreach," Thomas said. "The topics they sign up for and whether they attend is also a great test of engagement – you can tell if folks really are interested and what interests them most."
So, here's a look into Thomas's process for producing webinars that attract leads.
Step #1. Pair your webinar content with your marketing strategy
Thomas starts by pairing the company's overarching marketing strategy – such as a quarterly focus on a particular product, channel, or use case – and her audience's appetite.
She gauges this by looking at other content-success metrics like whitepaper downloads. For instance, an organizational focus on social customer care and the popularity of content around ROI can become a webcast on "Getting to Big ROI with Social Customer Care."
Afterward, she secures webinar presenters, usually an expert inside the company and one outside the company that is perceived as a credible speaker that knows how to engage an audience.
Thomas sets up the event with presenters months in advance as the speakers she selects are in high demand.
"You could have a speaker with a great story to tell, but they must know how to tell it compellingly," Thomas said. "The optimal combination of good content and an inspirational personality is critical."
Step #2. Please work with your presenters to familiarize them with content beforehand
Next, she meets with these presenters three times before the event to:
Introduce presenters to the content
Review slides
Practice the presentation
Step #3. Promote your webinars well in advance
Then, she moves into promoting the event about a month beforehand.
Thomas' promotion process includes:
Setting up the registration page – an easy task since her platform allows her to clone previous events
Sending an email invitation to the Lithium database three weeks before and a day before the event, recipients often share these invitations, which accounts for the new leads.
Setting up a Twitter hashtag for the event printed on all of the slides – Thomas or one of her co-workers also tweets during the event.
Mentioning it in Lithium's social media channels and encouraging outside presenters to do the same
Step #4. Have your follow-up materials ready to go
Last, she develops event follow-up materials so they can be sent immediately when the webinar concludes.
"My platform provides me the emails of those who did and didn't attend so I can follow up with 'Thanks for attending, here's the whitepaper that you should download,' or 'Sorry we missed you, here's a link to the recording,'" Thomas said.
"Preparation ensures a smooth webcast and follow-up," she said. "But, the success of our webinar hinges on the topic and the speakers. People keep coming back and invite others to join them because they trust they'll get good information from inspiring people."
Related Resources:
Lead Generation: Phone calls turn the first-time webinar into million-dollar leads
New to B2B Webinars? Learn 6 steps for creating an effective webinar strategy
Complimentary Download: Webinar Planning Timeline